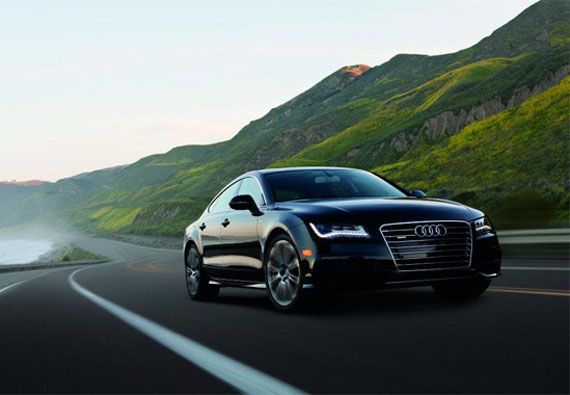 Photo Courtesy of Audi USA
The
Audi A7
and the Jeep Grand Cherokee won a 2012 Active Lifestyle Award in their respective luxury–car classifications. The yearly awards recognize vehicles that best support active lifestyles in the various groupings of the automobiles.
The Audi A7 was named "Best Luxury On Road Vehicle," and the Jeep Grand Cherokee was tops in the "Best Luxury Off Road" category. Chandler, Arizona, was the location of the eighth annual ALV Award ceremony.
The Active Lifestyle Vehicle Award association is the only car competition that uses automotive journalists and elite athletes as its judges. Panels consisting of 10 judges assess the cars on overall design, engine power, fuel efficiency, and cargo capability. Overall, 32 vehicles, in seven categories, made the final cut for the 2012 awards. 
"While ALV is technically a car-of-the-year competition, it's also an impromptu focus group," said, Nina Russin, cofounder of Active Lifestyle Vehicle, in a statement released by
Audi USA
. "Our objective is to widen the pipeline between the people who plan, design and engineer new cars and the consumers who ultimately buy and drive them. At previous programs athletes including professional football players, elite runners, swimmers and tri-athletes have interacted with vehicle designers and product specialists."
Winners of the other seven categories for the 2012 Active Lifestyle Award are as follows:
Luxury On Road: Audi A7
Luxury Off Road: Jeep Grand Cherokee
Urban: Mazda5
Best Value On Road: Subaru Impreza
Best Value Off Road: Jeep Wrangler
Green ALV: Volkswagen Jetta Sportwagen TDI
Family: Audi Q7 TDI