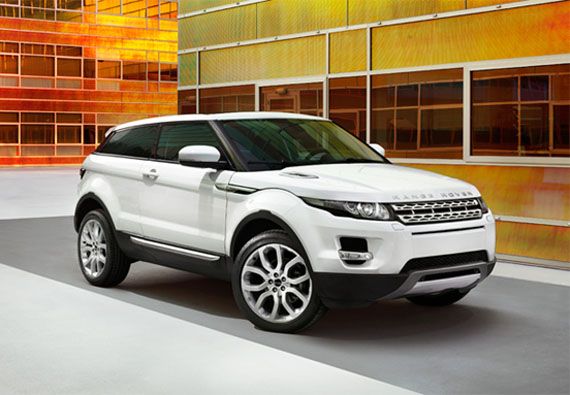 Photo Courtesy of Land Rover
Motor Trend
has named the 2012 Range Rover Evoque its 2012 SUV of the Year. British-automaker Land Rover extolled that its all-new 2012 Evoque is the smallest, lightest, and most efficient Range Rover ever produced. The award is the first major accolade for the all-new SUV. 
"It is a significant achievement for the Range Rover Evoque to be deemed the best new SUV on the market by
Motor Trend
, one of the pre-eminent brands in automotive publishing," said Andy Goss, president, Jaguar Land Rover North America.  
"Our entire UK team, responsible for the engineering, design and build of this cutting edge luxury vehicle, was invaluable in the success of this model. We know our customers in the United States will share our excitement over this award for the newest addition to the Land Rover family."
Land Rover also announced that two versions of the award-winning vehicle, a coupe and a five-door, with base prices of $44,995 and $43,995, respectively, are forthcoming. While the length and the width of the cars are identical, the five-door option has a slightly higher roofline. The USA-bound models have a four-cylinder 240-horspower, four, direct-fuel injected, turbocharged engine with a six-speed automatic transmission.       
"The Range Rover Evoque is a bold move into the fast-growing compact luxury SUV sector," said Angus MacKenzie, the editor-in-chief of
Motor Trend
.   "Refined and capable both on and off the road, it artfully combines traditional Range Rover values with stunning state-of-the-moment design and impressive efficiency. The Evoque is a worthy winner of our award, and I have no doubt it will be a worldwide hit for Land Rover." For more information, visit
LandRover.com
.
{start-jlvideo}626{end-jlvideo}