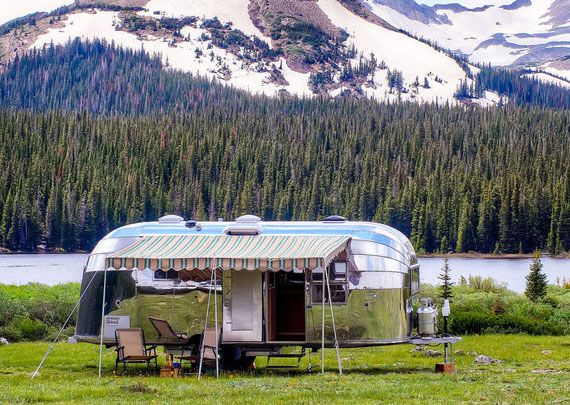 Photo Courtesy of Orvis
This totally rebuilt and customized 1954
Airstream
Flying Cloud is a deluxe travel trailer that would make even Mother Nature herself pause and stare! Sports and outdoorsmen specialty retailer The Orvis Company is holding an online auction for this extraordinary luxury travel trailer. The current highest bid is at $76,000. However, the minimum reserve has not yet been met. Bids are being accepted on it through December 11, 2011, 9 p.m. Eastern time.
Travel-trailer restoration specialists Timeless Travel Trailers was commissioned by Orvis to make this 57-year-old camper even better than it was originally. The specialty company, which has done full restorations and customizations to vintage trailers that have sold for as much as $450,000, was up for the job. It is no small task, as Airstream is the world's oldest manufacturer of luxury campers and recreational vehicles.
The 1954 Airstream Flying Cloud
luxury travel trailer
is a design that is years ahead of its time. Its aluminum body makes it light enough to be towed by an ordinary automobile, while its interior design and amenities make it the pioneer of the glamorous travel trailers. The interior of this 1954 Airstream Flying Cloud is appointed with natural hickory wood, aged oak flooring, copper sheet, and leather throughout. Brand-new running gear has been installed below the trailer, as it has been upgraded to current industry standards.
Extra special creature comforts include features like an HDTV and a Blue Ray Player. The trailer is road ready and fully prepared for a fishing-and-hunting or a cross-country expedition. For more information, visit
TimelessTravelTrailers.com
.