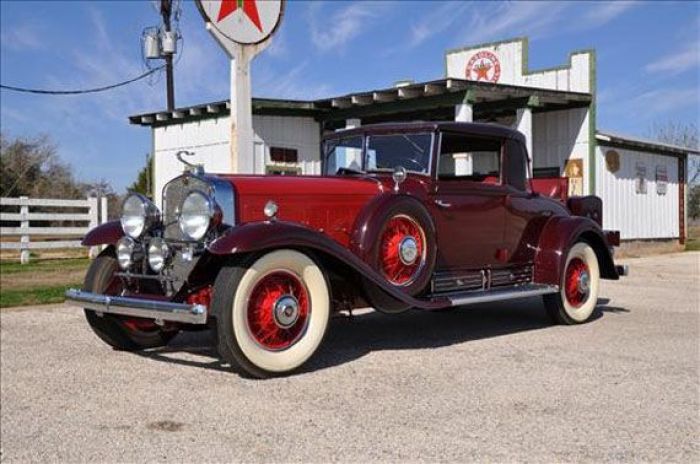 Photo Courtesy of Dan Kruse Classics
Classic-car auction house Dan Kruse Classics recently auctioned the Dick Burdick collection from the Central Texas Auto Museum for $4.83 million. The auction, which took place March 3, 2012, in Smithville, Texas, was the first time that the entire Burdick collection of automobiles was made available for sale.
The top seller of the auction was a 1930 Cadillac Model 452 Fleetwood Rumbleseat Coupe. The "Madame X" (above) sold at $418,000. A 1934 Duesenberg Model SJ Phaeton went for $346,000. A spokesperson for the auctioneer said that a 1967 Chevrolet Chevelle SS Two Door Hardtop that sold for $88,000 was the biggest surprise of the affair.
Founded in 1980 by Dick Burdick, the Central Texas Museum of Automotive History has amassed diverse vehicles over its history. The collection consists of vintage and
classic cars
. There also are automobiles that were owned previously by famous individuals in the collection. A 1913 Rolls-Royce Ghost Town by Brewster (above) once owned by the wife of Cornelius Vanderbilt sold for $286,000; a 1970 Rolls-Royce Silver Shadow Limousine, owned previously by recording artist Johnny Cash, sold for $49,500; and a 1964 Lincoln Continental (below) convertible driven around the ranch by former President Lyndon B. Johnson sold for $46,200.
Perhaps the best or the most touching story stemming from the event is that of a 97-year-old man who found his dream car, a 1911 Model T Ford, at the auction. Buying the antique vehicle at the Dan Kruse Classics auction ended a seven-year search for the elderly gentleman. For more information about the auction house, visit
KruseClassics.com
.
1970 Rolls-Royce Silver Shadow Limousine