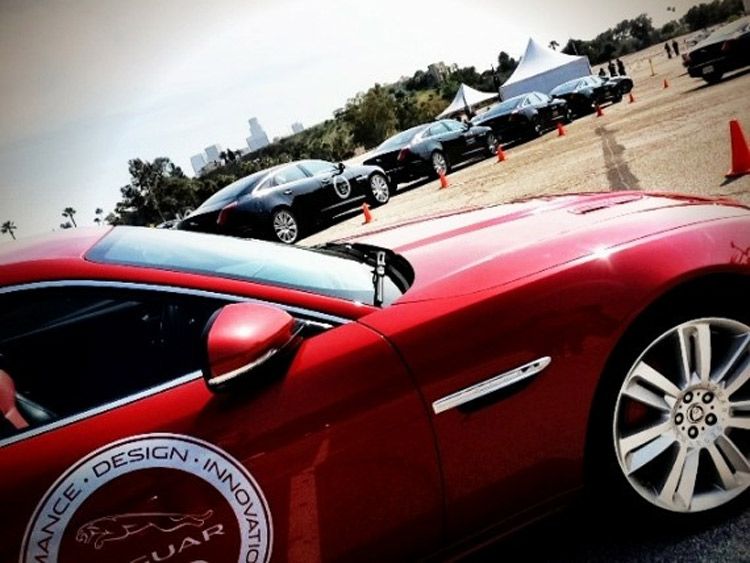 Photo Credit 2Sense-Los Angeles
See yourself commanding a vehicle of precision and grace, one with relentless style, never failing to awe. Then see yourself on a race course, testing the car's speed and performance, against even the toughest terrains...the
Jaguar
Alive Driving Experience, an interactive test-drive tour, introduces their elite 2013 models and satisfies one's need for speed by asking, "How alive are you?"
Jaguar
This May 2012, the traveling Circus Maximus de Jaguar leapt into Los Angeles. Perched upon the Lot 1 plateau at Dodger Stadium, a test area efficiently set-up shop. The location, ripe for invitees of various stripes, included car aficionados, celebrities, as well as media and
luxury car
consumers who all prowled across the stadium parking lot in Jaguar's impressive 2013-luxury line.
Jaguar
One main tent housed a multi-media showroom, fit with sample cars, video tutorials, and catered bites…no booze for obvious reasons. Jaguar professionals and driving coaches, including
Formula One
racers, manned three satellite-tents, prepping guests for a hands-on driving experience created around Jaguar's comfort, handling, and horsepower. In any order desired, attendees were able to take a car for a spin on a handling course or over rough terrain; the Jaguar's controlled reaction to an oil slick simulation was quite impressive.
2Sense-Los Angeles
But the prize in our eyes was the 0-60mph thrill ride that also came with a fun memento: video of your ride emailed to you, bragging rights included. Overall, the experience is a unique way to get acquainted with the new Jaguar before you purchase, and for those just along for the ride, it's a fun way to spend a sunny day.
2Sense-Los Angeles
History
The Jaguar dates back to its original name Swallow Sidecar Company in 1922. The name, replaced after WWII because of the less than ideal "SS" abbreviation, resulted in a name synonymous with excellence. The forerunner of sleek, European style distinguished it from its early contemporaries round the world. Fast-forward to today and the Jaguar ornament no longer "leaps" from the hood due to European legislation. Now the automobile boasts a somewhat Versace-esque embossment. This accessorial change gives Jaguar, one of the most tailored and fitted lines of high-end vehicles, a bit of edge.
2Sense-Los Angeles
Performance
Jaguar's 2013 line equips only the best, most creative craftsmanship. At the forefront is the Jaguar XKR-S(upercharged), one of 100 sold to be sold in the United States. This bad-boy places 550hp at your will—imposed precisely with Jaguar's reprogrammed Active Differential for improved steering capabilities at very high speeds. The XKR boasts, 0-60 mph in 4.2-seconds, with 20" Vulcan alloy wheels gripping the asphalt.
Jaguar
Selection, Design, and Features
Ian Callum, Jaguar's design director, developed the line's new design style and led the re-design of XJ, XF, XK. The Alive Driving event allowed guests to test-drive all three models. Fluid lines and bold detailing add modern character to this classic fleet, while exterior paint and interior soft-grain leather yield a range of color options. The XJ, Jaguar's
top luxury sedan
exudes comfort. Spacious design and state-of-the-art features, including front seat massage and four-zone climate control solidify its luxury portfolio.
Jaguar
Jaguar's XF is their alpha and award winning cat, designed for "those who want it all", this sports sedan fuses the power of a
sports car
with the ride of luxury sedan. Sporty, the XK and XKR convertible are ideal for zipping down the Pacific Coast Highway, breezes blowing as a premium HD- Bowers & Wilkins 525W sound system keeps tunes or Bluetooth strong. It was this fun, young car that captured our fancy the most, particularly the unique XKR-S model in an exclusive French Racing Blue.
Experience now prances across the country, stopping at several cities over the next 7-months (more dates to be added). For more information visit
JaguarUSA.com
.
2Sense-Los Angeles
Jaguar