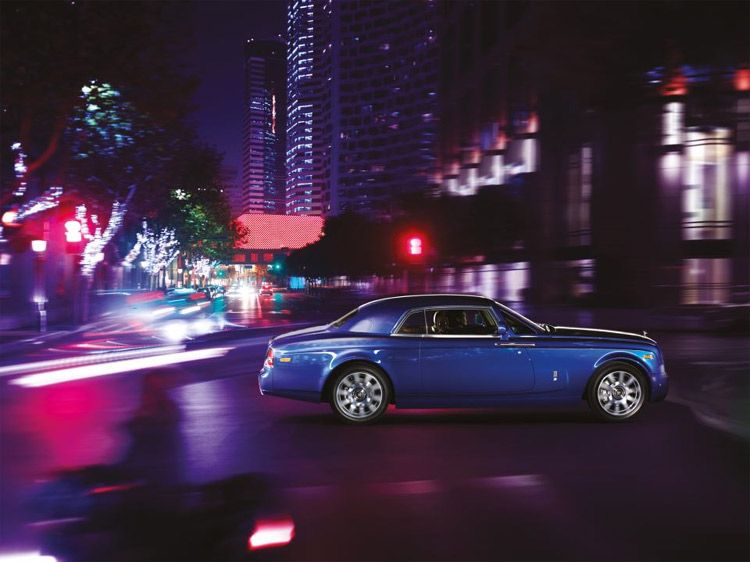 Photo Credit: Rolls-Royce Motor Cars/Carrie Coolidge
Rolls-Royce had many things to celebrate in Jericho, New York earlier this month when it officially opened Rolls-Royce Motor Cars Long Island, which is now the brand's largest showroom in North America. The Long Island-based facility, whlich spans more than 9,200 square feet, was the ideal place to unveil the
luxury car
company's latest model: the 2013 Phantom Series II, which goes on sale this September.
Carrie Coolidge
"We now have a facility on Long Island that is worthy of the Rolls-Royce name and worthy of the Rolls-Royce customers who will buy their cars here and have them serviced here," David Archibald, President of Rolls-Royce Motor Cars North America, told
JustLuxe
. "We wanted to create an environment where prospective buyers from Long Island and all over the tri-state area feel comfortable and are provided with first-class service from beginning to end."
Rolls-Royce Motor Cars
Archibald unveiled two 2013 Phantom Series II vehicles including a Drophead Coupe. The Phantom Series II marks the first significant improvements to the Phantom since the model was introduced in 2003 and features several technological upgrades intended to improve the performance and efficiency of the car. The front-end of the car has restyled bumpers and rectangular LED headlights—the first full LED headlights to be offered as standard on a production car. The iconic Spirit of Ecstasy and the distinctive Rolls-Royce grill remain intact.
The Phantom Series II also offers a new eight-speed automatic gearbox and rear differential, both of which enhance the driving experience while decreasing fuel consumption and emissions by 10%. The Phantom Series II also offers upgraded driver assistance technologies, an updated satellite navigation system and new user interfaces both of which enhance the driver experience. The MSRP for the 2013 Phantom Series II is $398,970; the Phantom Extended Wheel Base model is $470,295; the Phantom Coupe is $429,295 and the Phantom Drop Head Coupe is $469,900.
The unveiling of the Phantom Series II was merely a prelude of what's to come at the Long Island showroom. The dealership will display more of the luxury automobiles than any other showroom in North America—as many as 12. The dealership, which is owned and operated by Antoine Dominic of Bespoke Motor Group, is an important addition to Rolls-Royce as the U.S. is its largest market in the world; China is its second largest market.
Carrie Coolidge
The airy and expansive showroom boasts floor to ceiling glass walls and also features a café and an outdoor terrace. One of its most prominent features, however, is the "Bespoke Lounge," which is one of the largest Rolls-Royce has anywhere in the world. The Bespoke Lounge is where prospective customers browse thousands of leather, color and trim samples.
Carrie Coolidge
The Bespoke Lounge is increasingly important as Rolls-Royce customers are ordering more custom features than ever before in the brand's lengthy history, according to Andrew Monachan, leather shop general manager, Rolls-Royce Motor Cars. "When we think about what is important to the Rolls-Royce customer it is the aesthetics—it is the look and feel of the car because the function is a given," says Monachan. "The paint looks luxurious, but that is only a small part," he adds. "When you open the door and you see and feel the interior, it should make you feel special. It should connect with you."
Rolls-Royce is known for offering an unlimited number of color, trim and other bespoke options. Known as "personalization," this service includes the option of ordering unique paint colors, coach lines and tread plates as well as other options such as coordinating champagne sets, humidors and picnic cabinets. Rolls-Royce will accommodate nearly any request when it comes to personalization.
"People buy a Rolls-Royce as an extension of their personality," says Monachan. "Often they buy one as a gift for themselves or receive one as a gift from someone else. These customers know what they want and because of that, they can work with us to try to push their boundaries and our boundaries. That is the fun part."
For example, Rolls-Royce once created a paint color requested by a woman who wanted her car to match her favorite eye shadow (a minty green). Another customer ordered a Rolls-Royce with the leather interior customized to match his girlfriend's favorite lipstick color. He presented the car to his girlfriend when he proposed marriage (she said yes). Even though Rolls-Royce offers 45,000 different colors of paint from which to choose, customers often want a color that is unique and made to their specifications. Still, black exteriors with black leather remain the most commonly ordered option. The company is unusual in the automotive industry as it manufactures every single piece for every single car that it manufactures, adds Monachan.
Carrie Coolidge
The company credits personalization with helping Rolls-Royce reach record sales last year. In total, 56% of Ghost and Ghost Extended Wheelbase models sold around the world featured bespoke design in 2011. Rolls-Royce sales rose 31% worldwide in 2011 to 3,538 cars, which was an all-time record for the 108-year-old automaker. As the average Rolls-Royce costs approximately $400,000, that translates into worldwide sales of over $1.4 billion.
Rolls-Royce Motor Cars Long Island joins the select group of 37 Rolls-Royce showrooms in North America (including three in Canada) and is the third new showroom to open in the U.S. in 2012. Tampa and Nashville opened earlier this year. On Tuesday, June 12 Rolls-Royce Motor Cars Manhattan celebrated the launch of the Phantom Series II in its newly renovated showroom, the only authorized Rolls-Royce dealer in New York City. Visit
Rolls-RoyceMotorCars.com
to learn more.