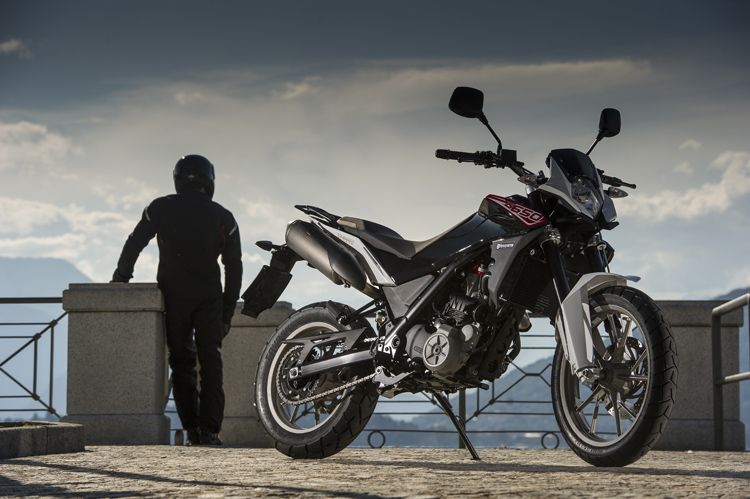 Photo Courtesy of Husqvarna Motorcycles
Ever since teaming up with
luxury auto
brand BMW in 2007, Husqvarna Motorcycle has strengthened their brand and innovative technological reach. Though originally founded in Sweden, the company is today located in Cassinetta di Biandrenno, Italy and boasts a long career making motorcycles for over 100 years. With so much success in the realm of off-road racing bikes, like 82 World Championship titles, Husqvarna has decided to give their in-road bikes a boost with their new multi-terrain TR 650 Strada and TR 650 Terra models.
Known for their athletic and compelling designs, Husqvarna has strived to make sure their two newest bikes stand apart from the competition. The Strada bike is meant for the street while the Terra is great on light terrain. Each sport a strong single-cylinder engine with a 652 cc ability and an "agile chassis based on a split-backbone tubular steel frame with remove-able rear frame and front beam bolted to the engine." They're handling oriented and feature a steal swing arm, "as well as telescopic fork and rear shock with linkage (suspension travel at front and rear 190 mm/7.5")."
Husqvarna thinks of the single-cylinder 4-stroke engine as the heart of each bike, with "43 kW (58 hp) at 7,250 rpm, it has 8 kW (10 hp) more output than the basic BMW Motorrad engine." The extra power allows the bike owners more freedom to ride wherever they wish, be it bumpy country roads or smoothly paved highways. The improved engine also features a newly-designed intake silencer and a stainless steel exhaust system with two rear silencers. The exhaust is cleaned by a closed-loop 3-way catalytic converter.
Both are fairly lightweight for motorcycles, the Strada weighing around 410 pounds with a full tank and the Terra coming in at around 405 pounds when fueled. According to the company, the tank itself is positioned in such a way that the bike's centre of gravity is balanced for better handling.
While they have many elements in common, you can certainly tell them apart due to the Terra's red trim on the sides and Strada's white front fender that sits low. The wheels are made from light alloy but differ in design between the two: a ten spoke look for the Strada and off-road spoke wheels for the Terra. The seating is slightly different between the two models as well. The Terra has a seat height of 34.1" and the Strada has a height of 33.9".
In terms of more aesthetic features, the two bikes have wide handle bars meant to give a relaxed and smooth ride. The handbrake and clutch lever grips can be adjusted to your individual comfort, and the digital readouts of road information and speed is easily seen thanks to an LCD display. There are also some optional perks, like hand protectors, a windshield, lowered seat, heated grips, and an alarm system.
Pricing and availability has yet to be listed but there will be build variances depending on which market you are buying the bikes from, the North American or European.
For more information visit
Husqvarna-Motorcyclesna.com
.