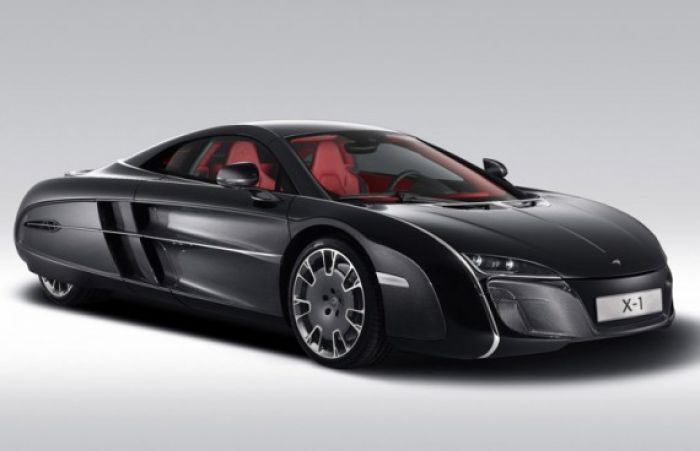 Photo Courtesy of McLaren Automotive
Whether it's the original McLaren F1, the SLR it built for Mercedes-Benz, or the new
MP4-12C
, there's little question that owning a McLaren supercar is a rare privilege. But even that wasn't enough for one owner, who commissioned the British racing team turned automaker to build the bespoke supercar you see here.
Called the X-1, the one-of-a-kind creation is the product of McLaren Special Operations, which built the car for an unnamed private customer – evidently according to very specific parameters - and presented it this weekend during The Quail event at Pebble Beach in Monterey, California.
It's based on the carbon-fiber mono-cell architecture that underpins the 12C, but draped in entirely bespoke bodywork hewn in carbon fiber. Inspiration for the design – penned by Korean designer Hong Yeo and supervised by McLaren design director Frank Stephenson – was drawn from classic cars like the 1953 Chrysler D'Elegance Ghia, the 1971 Citroen SM, and random objects like a Jaeger-LeCoultre clock and a photo of Audrey Hepburn.
The brightwork both inside and out is made from nickel-plated solid machined aluminum, with diamond-turned wheels that are enclosed at the rear like the aerodynamic classics of yore. The interior is carried over - largely unchanged - from the 12C, but has been draped in red Nappa leather with titanium-carbon trim and Andesite tufted carpeting.
The overall shape is longer and wider than the 12C, but the lighter carbon body panels keep its weight down to a nearly identical 1,400kg as the existing road car. With the same 625-horsepower, twin-turbo V8 under under the hood, the X-1 promises to be just as fast on the road.
The unusual result may not be to everyone's liking, but when you've got  the kind of wealth to have a company like McLaren to build a unique supercar just for you, who cares what anyone else thinks?
For more information visit
McLarenAutomotive.com
.