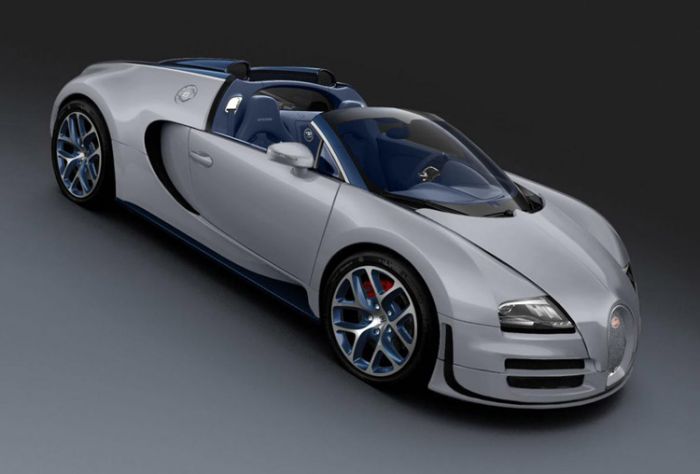 Photo Courtesy of Bugatti
With a seven-figure price tag and a virtually endless array of colors and customization options, you can bet that every Bugatti Veyron is unique. In fact, it would take a massive lack of imagination on part of the Alsatian marque's clients for any two luxury cars to be the same. Still, to paraphrase Orwell, some are more unique than others.
Bugatti regularly introduces special editions of its record-breaking supercar, and this is the latest.
Called the Rafale edition, it's based on what we'd argue is the ultimate version of the Veyron to date: the Vitesse. Combining the open-top body-style of the Grand Sport with the staggering 1,200-horsepower engine of the Super Sport, the Vitesse is the best of both worlds.
Upon introducing the Veyron Grand Sport Vitesse roadster to the South American market recently at the Sao Paulo International Motor Show in Brazil, Bugatti evidently wanted to make a splash, so it didn't just bring any old example, as if such a thing exists when you're dealing with Bugatti's – it brought this unique example.
The Rafale edition Veyron Vitesse is distinguished by a grey and blue color scheme. The body is painted a unique shade of dolphin grey with blue carbon-fiber trim, and the cockpit is trimmed in its inverse, with blue leather and grey stitching. Carbon fiber, aluminum and magnesium further augment the open-top cabin.
All these special touches and the privilege of owning a special edition Veyron (which, we might add, is that much more likely to appreciate in value) command a considerable premium. At 1.9 million euros, it's more than 200,000 euros more expensive than the already-pricey Vitesse. But when you're dealing with that many zeros, what's another fifth of a million? On the other hand, that difference alone is enough to buy any of the 99% of other cars on the market.