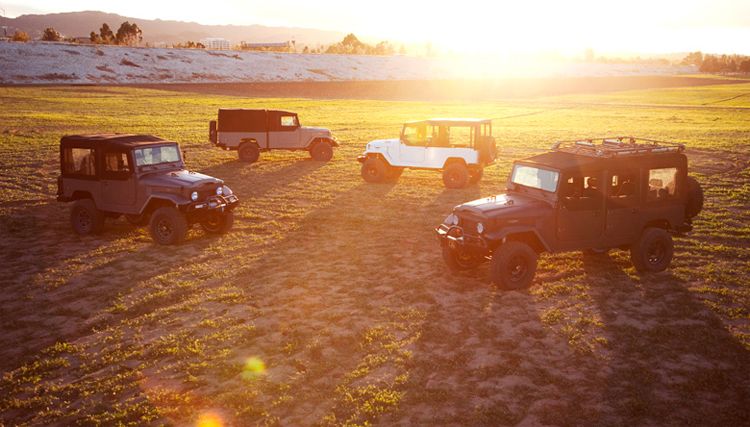 Photo Courtesy of ICON
Jonathan Ward knows that sometimes collectors of
classic cars
want something that is not only stylish and classic, but also drivable, which is why he created and designed ICON. With all the autos handmade in Los Angeles, ICON offers specially designed 4x4 vehicles that combine modern performance, utility, and vintage design, all while paying homage to the Land Cruiser tradition. With three series available (the ICON BR, CJ, and FJ series), each with multiple models to choose from, car collectors and enthusiasts will certainly find something among these detail-oriented creations that fit with their off-road adventures.
"The concept for ICON was born in response to the direction I had seen the collector market heading, as demands and expectations on classic cars grew to expect modern performance married to classic styling," says Ward. In 1996 he and his wife Jamie started TLC, a leading Land Cruiser Service center that offered sales, service, parts, and restoration. Once the company grew, Ward began working with Toyota, handling special projects like customizing cars, and was eventually asked to build a prototype that became their 2007 Toyota FJ Cruiser. Now that ICON is up and running, Ward is able to envision Land Cruisers as he would want them, customizing neat cars that would make great additions to any assemblage.
The
luxury cars
feature aluminum bodies and are built like a tank to ensure longevity. The chassis is made up of steel and mandrel-bent, creating tough frame rails that resist wrinkles. According to the company, the auto's "proprietary finish is a Teflon polyester hybrid super durable powder coat that was originally conceived for architectural uses." Once each panel is finished, the underside of the body and fenders, as well as the floor surfaces, and coated in a heat-cured polyurea that apparently limit vibration and heat transfer. They also never need waxing and don't require very much maintenance.
95 percent of the parts used are made in America, which will interest those wanting an American-made car. Each ICON is also made to order, meaning that it could take some time to get the finished product delivered. The build team is made up of six guys, which according to the site, take 352 days to finish each car, which is pretty impressive. Because each model is made by hand, you can pretty much customize it however you want, tailoring it to your needs and wishes to ensure your wholly unique auto.
An ICON car isn't going to be cheap, but you probably already knew that considering it's built just for you. Pricing for the CJ series begins at $78,000 and the FJ series starts at around $116,000.