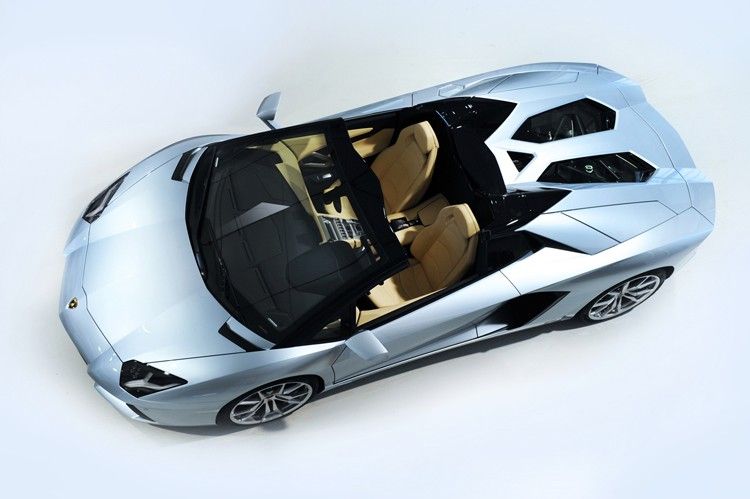 Photo Courtesy of Lamborghini
What could possibly be better than a supercar with a V12 engine? A convertible supercar with a V12 engine, that's what. Because part of the joy in driving such an exotic automobile is hearing the engine note, and another part (for many owners of these
luxury autos
) is being seen. Lamborghini knows this all to well.
Although the Italian automaker only made one Roadster version of the  Miura - one of the prototypical originators of the form - and didn't offer a convertible Countach, the Diablo that followed was launched in VT Roadster form in 1995. The Murcielago was also offered as a convertible, and now the Raging Bull marque has launched its follow-up: the new
Aventador
LP700-4 Roadster.
Set to debut at the Los Angeles Auto Show later this month, the Aventador Roadster includes the same 6.5-liter V12 as its existing fixed-roof counterpart, driving 700 metric horsepower to all four-wheels through the company's ISR seven-speed sequential transmission to all four wheels. The result is a 0-60 time of three seconds flat and a top speed of 217 miles per hour. With the added weight a convertible brings, that may not be quite as quick as the Aventador coupe, but will still trounce 99% of the cars on the road, and let the wind waft through your hair while doing it.
Instead of a heavy folding roof mechanism, though, Lamborghini developed a two-piece detachable roof panel that's made of lightweight carbon composites and can be stowed in the luggage compartment at the front of the car.
The example pictured here is painted in a unique shade of Azzuro Thesis in tribute to that original Miura Roadster, with the roof and window frames painted in black for contrast. A special set of Dione wheels are lighter than the existing ones, and measure 20 inches at the front and 21 at the back.
Lamborghini has priced the Aventador Roadster at 300,000 euros before taxes, with US pricing expected to be announced shortly.
Check out:
Top Sports Cars for 2013 | From Aston Martin to Lamborghini
!