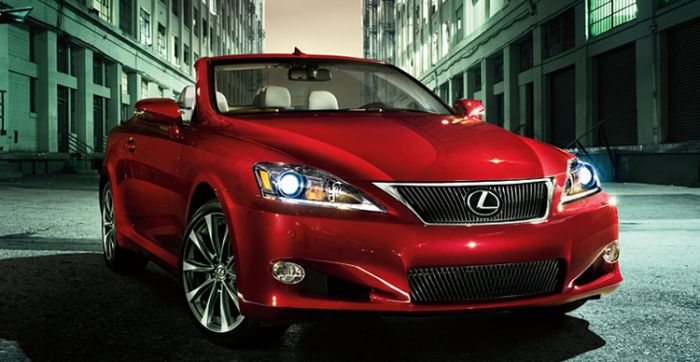 Photo Courtesy of Lexus
Watching the four-piece retractable top on the 2013 Lexus IS 350 C fold sleekly into the trunk was awesome. Certainly this marvel of engineering is not in the league of the Mars Lander's Sky Crane, but is nearly so, right here on Earth, and several hundred million dollars less expensive. This chic
luxury car
was mine to experience for a week, and I had plans to enjoy topless adventures from the get-go.
I envisioned my time with the "sexy Lexy", as my teenage neighbor called it, as flirting with cutting edge automotive technology with all its electronic gizmos and computer-assisted everything. Road trips, however, often have a way of turning out quite differently than planned. This one turned out to be a wistful journey through nostalgia, to a gentler time.
Los Angles had yet to wake as I skirted the quiet downtown, through an inky, misty morning. The unusual experience of piercing LA at highway speed was quite magical with the top down, seat warmers and heater on high. The car's design eliminated my being buffeted by wind, so listening to satellite radio was a breeze. Here's where the first nod to nostalgia entered the picture.
Matt Dillon, Johnny Dollar ("the man with the unlimited expense account") and The Shadow kept me company as I headed for Yosemite National Park. Radio classics, "transcribed for my listening pleasure" were interspersed with vintage ads for long-ago favorites like Sugar Krinkles, Muffets Shredded Wheat, Fitch hair tonic, and Spry vegetable shortening. Switching stations had its moment of serendipity, as "On the Trail" from the Grand Canyon Suite came majestically through the 12-speaker Mark Levinson surround sound audio system.
Driving topless through Yosemite Valley in late October was an experience to be cherished. Crisp air, looming monoliths, swirling leaves of yellow and gold, and iconic scenes of incredible natural beauty were exhilarating. In another nod to nostalgia, I learned the magnificent Ahwanhee Hotel, in the heart of the valley, was commissioned by Stephen Mather in 1926. As the first director of the newly-formed National Park Service, Mather's goal was to attract people of means and influence to visit the national parks by automobile and help spread the word. The hotel nicely suited their lifestyle.
The Lexus's 306 horsepower 3.5 liter V6 engine had provided peppy power zipping up Tioga Road's 10,000-foot elevation, and we now headed toward a dramatic change of pace. Entering Death Valley National Park, seat warmers became seat ventilators with a click of a button. The sexy time machine again took me headlong into more nostalgia and a fascinating connection with Stephen Mather.
At the Pacific Coast Borax Company's Harmony Plant in Death Valley, the story of transporting the mineral out of the area by teams of mules was explained through displays and antique wagons from the era. Stephen Mather, working in the company's New York office, was instrumental in persuading the company's owner to add the name Twenty Mule Team Borax to the famous drawing already on the box, and an American icon was created. Within a quarter century, Stephen Mather was head of the National Park Service.
At trip's end, with the top up and the engine cool, I thought about my favorite road trip quote:
"I travel not to go anywhere, but to go.
I travel for travel's sake.
The great affair is to move."
~ Robert Louis Stevenson
Thanks, Lexus. This was a great way to move.