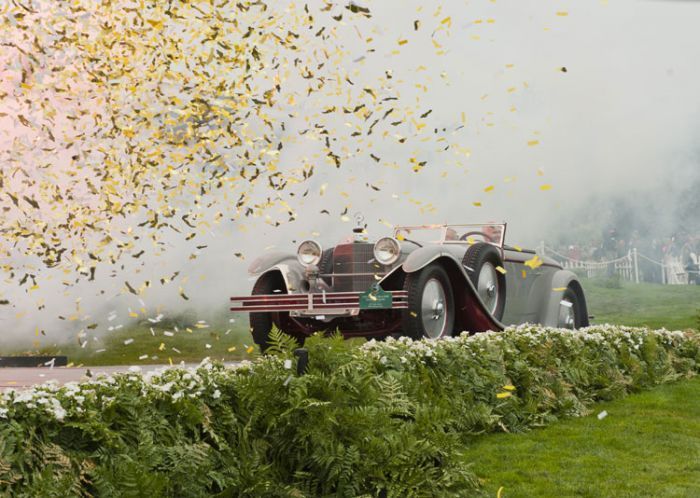 Photo Courtesy of Pebble Beach Concours d'Elegance
Automobile enthusiasts really revved up their engines to send donations over the $1 million mark at this year's
Pebble Beach Concours d'Elegance
. This yearly event is the world's premier
luxury auto
show, spotlighting the cr?me de la cr?me of collectible autos, and also unveiling high-end concept cars. Not just a parade of expensive showpieces, the Concours d'Elegance also donates proceeds to support local charities. In total, over $1.25 million was raised this year to be distributed among community organizations in the Pebble Beach, California area.
Every year on the third Sunday in August, international car collectors and fans clear their calendars to gather on the 18th fairway of Pebble Beach to display and admire highly prized collectible cars at the Concours d'Elegance. There must be something special under those hoods because this is the seventh year in a row that over $1 million was raised by the Concours and its charitable partner, the Pebble Beach Company Foundation. Proceeds are targeted towards groups who will benefit most, and for Pebble Beach Company and Foundation, it is the youth of Monterey County. The money will be used to help develop and sustain educational programs in the areas of arts, sciences, sports, and technology.
The Pebble Beach Company Foundation was started in 1975, and along with its community work, also oversees the scholarship program created to honor Phil Hill, the distinguished racer who won the Formula One World Drivers' Championship. From this year's proceeds, $100,000 in college scholarships will be granted to 20 local students in the amounts of $5,000. Donations help support over 60 local charities including United Way Monterey County, Boys & Girls Clubs of Monterey County, Natividad Medical Foundation, Community Hospital of the Monterey Peninsula, Kinship Center, Voices for Children (CASA) and Animal Friends Rescue Project. Concours Chairman Sandra Button announced during a luncheon celebrating the achievement, "It's amazing what our community can do when everyone works together."
Based in Pebble Beach, California, the Pebble Beach Company owns and operates the high-end Pebble Beach Resorts and four golf courses. The Concours d'Elegance has been operating yearly since 1950 and celebrates the accomplishments of the automobile industry. This year's best in show award went to Paul and Judy Andrews for their 1928 Mercedes-Benz 680S Saoutchik Torpedo. Concept cars were unveiled too, like the
Bugatti Veyron 16.4 Grand Sport Vitesse
.
Only the most prestigious of show cars are allowed on the 18th fairway of the Pebble Beach Golf Links. You can reserve a ticket for next year's show and help local youth programs. The 63rd Pebble Beach Concours d'Elegance will take place on Sunday, August 18, 2013.