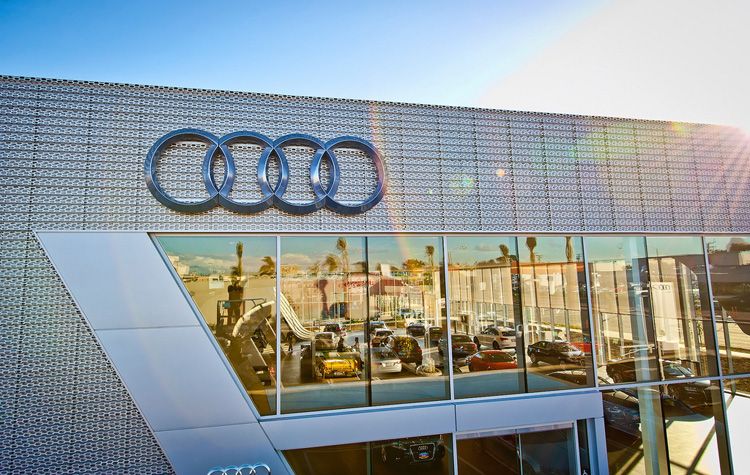 Photo Courtesy of Audi Pacific
Audi of America's largest U.S. dealership, Audi Pacific, has been LEED Gold certified. The Los Angeles County-based building now deploys environmentally rooted technology that substantively improves energy efficiency throughout the renovated structure. The luxury auto brand's new location is an LAcarGuy-owned dealership.
Overall, energy efficiency upgrades have been improved by initiatives that focus on reusing and recycling materials, and reducing water usage throughout the modernized facility.
"Audi remains steadfast in its commitment to advancing green technology and environmentally responsible business practices," said Mike Cagle, director, Western Region for Audi of America. "Through the opening of Audi Pacific, we not only celebrate the largest Audi showroom in the United States, but also take great pride in achieving LEED Gold certification."
The LEED Gold-certification is a process promoted by the U.S. Green Building Council. The green-building certification procedure assesses the sustainability of a building's design, construction, and operations. The remodeled Audi Pacific dealership has been upgraded with energy-efficient water fixtures, low-energy use, and a 45-kilowatt DC solar PV system. 
Mike Sullivan, the owner of Audi Pacific and the president of LAcarGuy, serves on the board of Heal The Bay and the Environmental Media Association. The energy-conscientious automotive executive is a 45-year veteran of the automotive industry. He also is on the regional board of directors for Global Green USA. Audi Pacific is one of 11 dealerships owned and operated by Mr. Sullivan.
"The LAcarGUY family of dealerships has long been committed to promoting sustainable, greener business operations and supporting environmental initiatives," said Sullivan. "Our new Audi Pacific dealership facility exemplifies our leadership and focus on ecology, economy, and social responsibility across the board."
Audi Pacific has been expanded to 45,000-square-foot facility from its original 14,000 square feet. The dealership adheres to the new Audi "terminal" design, which isan ecologically advanced construction method promoted by Audi of America's parent company in Germany.
Audi Pacific is located in Torrance, California, at 20460 Hawthorne Boulevard.