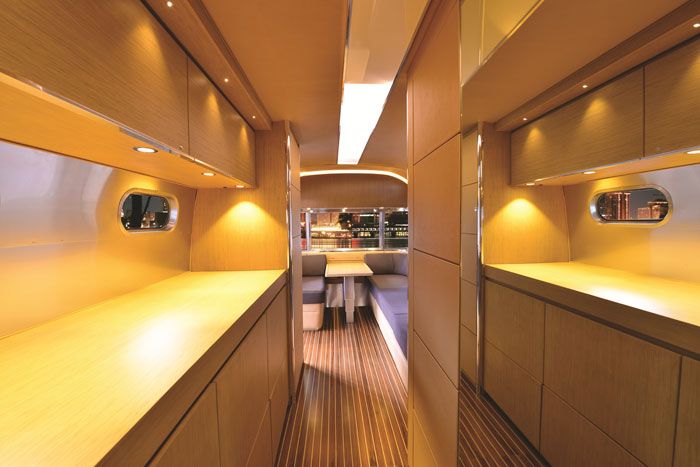 Photo Courtesy of Airstream
If you're the type of person who simply adores the idea of spending the day lounging on a
luxury yacht
, yet were never able to fully develop your sea legs, then Airstream's new Land Yacht may be exactly what you need to unleash your inner skipper (without unleashing the rest of your insides.)
Known for manufacturing some of the world's most iconic travel trailers, Airstream just unveiled their newest concept, the 'Airstream Land Yacht', during the National RV Trade Show in Louisville, KY. This new land lover's version of a nautical adventure is the product of an international collaboration between Airstream and Teconform S.p.A.
The sleek and contemporary design of the 28' Land Yacht was created by Tecnoform's engineering department in partnership with Mauro Micheli (long-time designer for
Riva Yachts
). This sophisticated unit is capable of sleeping up to five people with a front bedroom, a bathroom and a social space located in the back. The unique Land Yacht also features a powered bed lift that reveals an additional area for hidden storage, three power awnings and a quiet ducted air system that provides powerful air conditioning that can be adjusted to the user's preference.
"It's part of the cultural imperative at Airstream that we continue to challenge ourselves in terms of what our travel trailers can be, stretching the brand and perceptions of it," explained Airstream CEO and President, Bob Wheeler. "The Land Yacht Concept represents the latest effort in that direction. We are very grateful for the visionary design work provided by Tecnoform and Officina Italiana Design on this project, which, while beautiful in its own right, has a wonderful historical connection with our founder Wally Byam's love of all things nautical."
Constructed with quality materials and equipped throughout, this luxury land liner is a great way to extend your next voyage past the open sea.