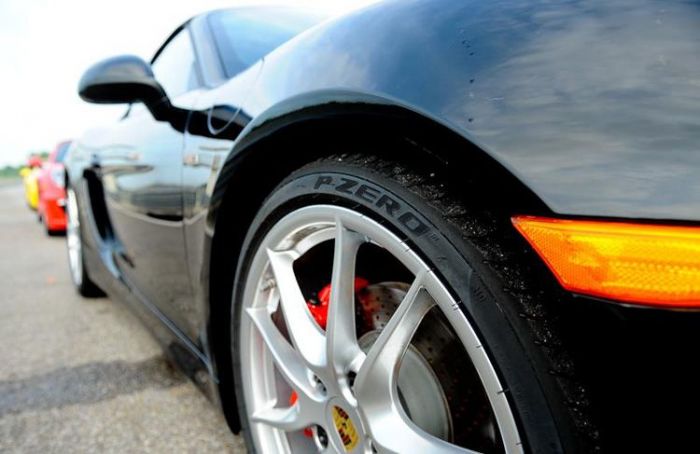 Photo Courtesy of Pirelli
If you know anything about cars you know that the right tires can make all the difference in your car's handling. They can change the way you're able to drive your luxury vehicle in various weather conditions, the right wheel allowing you to take those rainy corners a little faster and a little tighter. Not only does the right set enable you to push your car to the max, it keeps you safer while doing so. With so many different brands out there, some meant for off-roading and some meant for specific seasons (summer, snow, and all season), you might find it difficult to figure out which type you specifically need for your auto.
Summer Tires
Summer Tires, or High Performance Tires, are great for any season except winter. Made using a soft rubber, the tires' thread pattern grips the road better than others, designed to prevent hydroplaning on wet roads. Because they're a softer rubber than other tires, they can stiffen up in incredibly cold temperatures, limiting their grip and making them ineffective in snow and ice. If you live somewhere like San Diego, CA, where you can tan in December, summer tires would be a great choice.
According to
Auto Guide
, Consumer Reports has listed the top four
Ultra High Performance Summer Tires
as being the Michelin Pilot Super Sport (with a score of 90), Goodyear Eagle F1 Asymmetric, Dunlop SP Sport Maxx GT, and Michelin Pilot Sport PS2 (each scoring 82). (Photo Courtesy of Jupiterimages | Thinkstock)
Winter Tires
Snow Tires are meant for icy weather so those on the East coast, this option may be for you. According to
Business Insider
, these tires have a traction designed for snowy and icy roads, the tread being able to dig a little deeper to maintain grip. Unlike summer tires, these ones maintain their softness in cold weather thanks to a high-silica content, which helps with handling. Since they don't do very well on wet roads, these aren't tires you'd want to use all year round.
Consumer Reports' top two
Winter Tires
are the Michelin X-Ice XI 2 (scoring 84) and the General Altimax Arctic (scoring 78). For
Performance Winter Tires
, the Nokian WR G2, Hankook Winter Icept Evo, and the Michelin Pilot Aplin PA3, each scoring a 76. (Photo Courtesy of iStockphoto | Thinkstock)
All-Season Tires
All-Season tires promise exactly what the name implies; they're designed for year-round use. If you don't want to bother changing your tires when winter hits, these ones are meant to do passably well regardless of the climate. While they can help you out with dangers like hydroplaning on wet roads, they're still not going to offer you great handling like the specialty tires above will, because they are designed to get you through all seasons and are therefore a compromise. If you live in an area that has pretty short winters though, this one is probably alright for you to get by with.
All-Season Tires have three different ranked categories, the
Standard, Performance
, and
Ultra High Performance
. Consumer Reports ranked the top four
Standard All-Season Tires
as being the Continental ProContact EcoPlus+, Michelin Energy Saver A/S, Hankook Optimo H727 (each scoring an 82), and the Goodyear Assurance TripleTred (scoring 80). In the
Performance
category, Michelin Primacy MXV4, Michelin Pilot Exalto A/S (both with a 84 score), the Nokian WR G2, and the Bridgestone Turanza Serenity (each earning 80). The top three
Ultra High Performance All-Season Tires
are the Pirelli P Zero Nero All Season, the Cooper Zeon RS3-A, and the Sumitomo HTR A/S PO1 (each with a score of 82). (Photo Courtesy of Hemera | Thinkstock)
If you're looking for the top tires brands across the board, in 2012
J.D. Power
released their highest-ranked tires with
Michelin
ranking the highest in luxury, passenger car, and truck/utility, and
Pirelli
ranking the highest in performance sport. (Photo Courtesy of iStockphoto | Thinkstock)
Check out
3 Amazing Road Trips in the U.S.
.