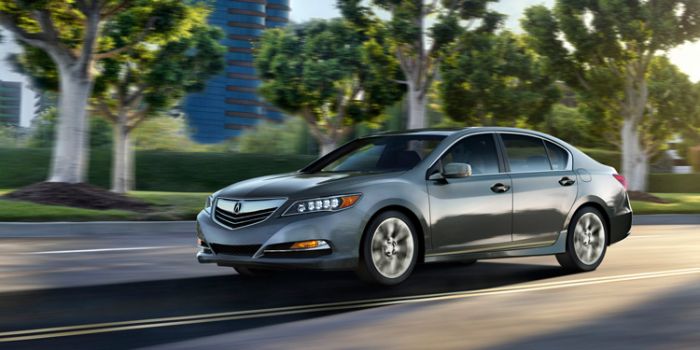 Photos Courtesy of Acura
Acura may not be a brand that you immediately associate with luxury but they're trying pretty hard to change your way of thinking with their
2014 RLX sedan
, which they're tagging as an "affordable luxury" option. As possibly their most lavish offering yet, (yes, even more so than their sporty models) the RLX beefs up everything from the interior space to the all-wheel steering system.
Recently, Acura was kind enough to invite me to
Napa Valley
to test drive the RLX, along a route full of tight corners and lake-side views for me to stretch out on. If anyone is in the Napa area and wants a great road to speed down, Sage Canyon Road is your best bet?not that I, ahem, condone speeding of course.
The first thing I noticed once in the driver's seat was how comfortable it was. As a pretty tall lady (just shy of six feet) I need my head room, and the RLX features a unique box-like structure within that lends more space. When I say box-like I don't mean that it looks like the Scion xB so don't start frowning; I just mean that the interior walls of the vehicle are pushed out a bit so that when you sit in the driver's seat you have more room at the shoulder. The design choice really makes a difference for us tall folk who never take space for granted. That said, leg room seems to have been compromised behind the wheel as the driver's seat was a bit too short for my liking.
There's plenty of leg room in the back seat, which seems to have been designed with entertaining clients in mind. There's so much room that it doesn't really feel like you're sitting in the back of a car, making the RLX a great option if you tend to drive people around on a regular basis. After all, you want your passengers to be as comfortable as possible if your career is involved. How much leg room does it actually have? While this model is pretty much the same length as the RL, it has 38.8 inches of rear leg room to stretch out in, which is much more than many other
luxury sedans
on the market — rear cabin leg room for the Lexus GS comes in at 36.8", the Mercedes E-Class has 35.8", and the Audi A6 has 37.4".
While the interior controls are nice, they could have been made a little more intuitive as they're not entirely user-friendly. Unlike the
Audi S6
that I last test drove, the RLX's controls take a little time to figure out and get used to. I never seemed to get a hang of where on the interface controls I needed were hiding, but I'm sure I would've figured it out had I more time.
In terms of drivability, I was pretty impressed with the sporty feel to the handling and I have to admit that I was taken aback at first by the Precision All-Wheel steer. The feature electronically adjusts the rear tires for better traction on sharp corners, with the inside wheel toeing in as the outside wheel toes out, which you really feel when tearing around a curve a little faster than necessary — that's the point though, right? The feature makes steering tight corners a breeze and helps balance the fairly large vehicle. With a 3.5-liter V-6, the RLX gives 310 horsepower, 272 foot per pounds of torque, and 4,500 rpm. The numbers aren't quite as high as some other autos (the Mercedes E63 AMG has 516hp, a 5.5L biturbo V-8, and up to 5,750 rpm), but the RLX is pretty light (3,933 to 3,997 pounds depending on which package you buy), which helps its speed and power.
From the outside, you won't necessarily be blown away by the safe design aesthetic (aside from the Jewel-Eye LED headlights that resemble diamonds), but that doesn't mean it's not an attractive car. Plus, within the design are lines meant to divert wind from the A-pillar, which cuts down on in-cabin noise. Speaking of cabin noise, the RLX has acoustic glass so that the interior is kept pretty quiet and music (which comes through a Krell Premium 450-watt, 14 speaker Audio System) is kept within, meaning that when you're stopped at a red light you won't have to worry about the driver in the car next to you judging you for blasting Justin Bieber — you judge yourself enough already.
Overall, the RLX is a pretty solid car with some impressive features, like adaptive cruise control and lane-keeping programs (which may not be rare nowadays but they're still cool), and would definitely be a great choice if you're looking for a luxury car but don't want to necessarily breach $80,000 to get it with all the bells and whistles.
The RLX went on sale March 15, 2013 and has a base price of $48,450, with the Navigation model at $50,950, the Technology Package starting at $54,450, the Krell Audio Package at $56,950, and the Advanced Package at $60,450.