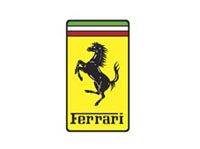 The Ferrari 575M Maranello is an updated version of the Ferrari 550, which was released in 2002. The model number indicates the engine's capacity inliters, while the "M" is an abbreviation for "modificato" or modified. It is never easy to improve upon perfection, but once again, Ferrari has done it. Sleekly designed by Pininfarina, as expected, the 575M Maranello has a newly designed interior and minor changes to the exterior.
Here is a big surprise. The 575M Maranello, with its V12, 5.7-liter 515 horsepower engine, is more powerful than its predecessor. Metrically speaking, it goes from zero to 100km/h(62 mph) in a stomach flopping 4.2 seconds. Fortunately, the brakes have been upgraded, too, with larger discs. Top speed on this mechanical magnum opus is 325 km/h, which translates to an invigorating 202 mph!
This wingless speed vessel has two renderings, the Superamerica and the GTC Handling Package. The Supermerica is an inventive convertible Berlinetta version of the 575M Maranello, with a limited production run of 559. The GTC package features Ferrari's third ceramic composite-brake system. Previously, the Enzo and the F430 featured this same brake system, which is based upon the firm's Formula One technology.
So, if you can handle the equilibrium-altering performance and the $224,000 plus base price, this is your Ferrari. Ciao!
For LxM James Rothaar
Turning-in is smooth and secure and, while the 575 feels narrower than it is, the tyres feel as if they must be a metre wide and sticky as hot tar.
- Drive.com