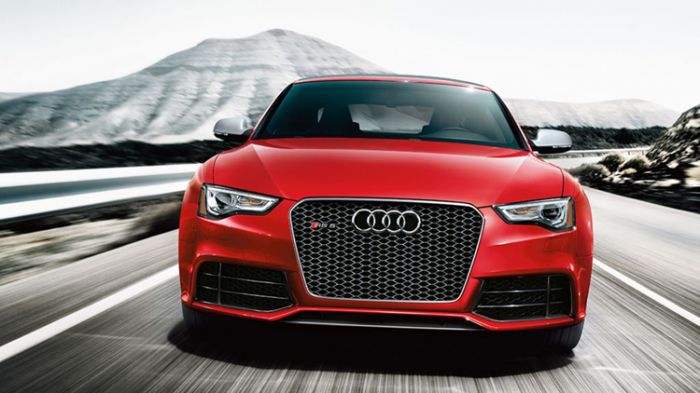 Photos Courtesy of Audi
An early summer week exploring Southern California in a 2013 Audi RS 5 Coupe confirmed: This is one dreamy road trip car. Thanks to the 4.5-liter V-8 engine that Car and Driver said "wouldn't look out of place in a Ferrari," the first thing you (and everyone on the block) notices is the engine's beastly-beautiful tailpipe exhaust, which when idling, sounds a bit like a lion purring. The slightest touch of the push-button ignition instantly sets it roaring to life, the car trembling with eager power like a racehorse at the blocks — or maybe like a racing lion, if such a thing existed.
The sharp, yet perfectly weighted, dynamic steering, Quattro all-wheel-drive, and smooth throttle will make you want to take the RS 5 out to the windiest, most desolate mountain highway you can find and take it through its performance paces. Its blatant head-turning sexiness (ladies take note, if you drive this car, men will ogle it first and you second) might also make you want to slow to a stately snail's pace and drive it down the most lookie-loo street in town. If you're taking it on an actual road trip though, you have to choose the right route, because the journey should match the vehicle.
Malibu Coast
Ocean views along one side, sweeping stretches of highway leading to one of the world's great see-and-be-seen epicenters...the drive from Santa Monica to Malibu is a great mini-expedition for this car. You can test out the throttle response by nipping ahead of a dawdling driver (yes, there's always one) in a brief passing zone; enjoy a few minutes of effortless speed limit-pushing alongside fellow privileged Malibu drivers in Mercedes and Ferraris; and then ease down to a comfortable loaf and take it into Malibu Country Mart for the bystanders to admire it. LA is a car city, so admire they will — doing double-takes to clock the macho fenders and 19-inch graphite-matte wheels.
Seward Highway, Alaska (AK-9/AK-1)
The classic travelers' question, "Are you a mountain person or an ocean person?" is not an issue on this remote and ruggedly lovely road. You get both. Also, foothills, marshes, wildflower fields and waterfalls — all unspooling in breathtaking succession, as you drive this 125-mile National Forest Scenic Byway from
Anchorage
down the Kenai Peninsula. The RS 5's nimble steering and "wave" rotor stops will enable you to pause at as many of the countless scenic overlooks and turnouts as you wish. And while you're on the road, the car's quiet cabin and super-comfy bucket seats make this a great vehicle for serene sightseeing.
Highway 12, Sonoma to Napa
A wine tasting road trip can often be a conundrum. In order to properly enjoy the one, you can't indulge in the other. The solution is an early morning drive that lets you properly appreciate Wine Country's beauty — and not only is Highway 12 a lovely, sun-dappled route, but it's logistically smart. After a couple days in
Napa Valley
, wake up bright and early, and cruise through the woodlands, past rolling acres of vineyards, enjoying the area's relatively brisk morning air. Make sure to ease the RS 5 along those country road curves, because there are cyclists out at all hours of the day. You'll arrive in the Sonoma town square just in time for brunch and afternoon tastings. In a perfect world, you'd want the
Audi
RS 5 Cabriolet for this drive, and the top would be down...obviously.
Beartooth Highway, Montana/Wyoming
This road's one for the bucket list, by virtue of its name alone. Winding through the Beartooth Corridor, nearly 11,000 feet above sea level at its highest point, this is the closest to sky-touching you'll get on any Northern Rockies road. An officially designated National Scenic Byway, it cuts through the national forest and alpine tundra, leading to the northeast gateway of Yellowstone National Park. A great place to exercise Audi's platinum-standard quattro AWD and the RS 5's 450-hp V-8 engine, while reveling in the equally dramatic and downright awesome backdrop.