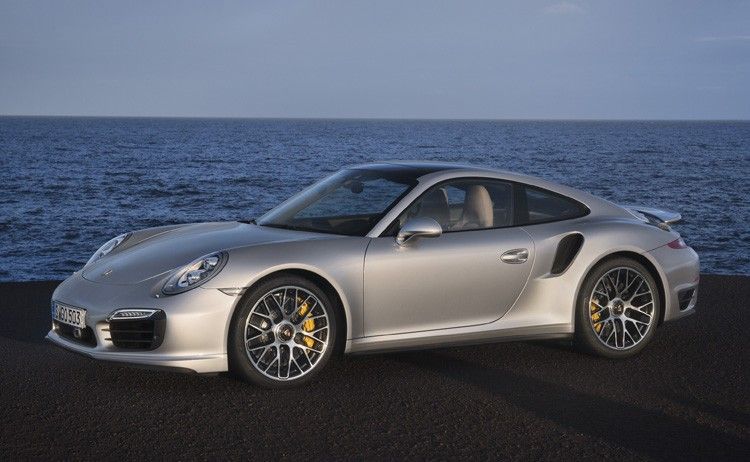 Photos Courtesy of Porsche
If you're in the market for the quintessential sports car, the
Porsche 911
is a popular choice. Already coming in a variety of different specifications, the German automaker has now released the 911 king of them all. The new
Porsche 911 Turbo
will debut in September at the Frankfurt Auto Show, 40 years after the first such model was released at the same exposition and 50 years since the introduction of the first 911. But while the original turbocharged type 930 packed 260 horsepower, the new model offers more than twice that amount.
Porsche has released two versions of its forced-induction sports coupe: the 911 Turbo with 520 horsepower and the 911 Turbo S with 560. Both derive their power from a 3.8-liter twin-turbocharged boxer six engine, mated to a seven-speed dual-clutch transmission with a new all-wheel drive system and four-wheel steering for optimal handling and performance.
As a result, Porsche quotes a 3.1-second 0-60 time for the 911 Turbo (when equipped with the optional Sport Chrono package), and 2.9 seconds for the Turbo S (which includes said package as standard). Both versions are capable of reaching a 198 mph top speed, and the Turbo S is said to be capable of lapping the benchmark Nurburgring Nordschleife racetrack in Germany in under 7 minutes 30 seconds, making it at least eight seconds per lap faster than the model it replaces.
Regardless of specification, the turbocharged Porsche comes with enhanced bodywork that's wider than any previous version, as well as adaptive aerodynamics and a stop/start engine management system that helps reduce fuel consumption by 16 percent. The Turbo S, however, upgrades with an active suspension and carbon-ceramic brakes.
Both models reach German dealers in September and American showrooms later this year when it will retail for $148,300 for the 911 Turbo and $181,100 for the Turbo S (plus a $950 destination charge).