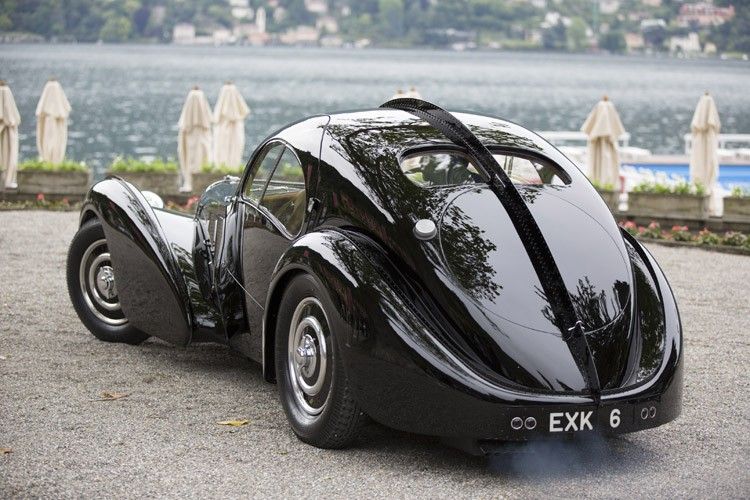 Photo Courtesy of BMW
Style is typically but one element of many that factor into the automotive industry and even its loftiest of products. But as you might expect from the name, the
Concorso d'Eleganza Villa d'Este
is all about automotive style. Every year the finest classic cars and new concepts gather on the shores of Lake Como. And this year's assembly, as exceptional as some of its entrants may have been, was no exception to that rule.
The Concorso d'Eleganza this year featured numerous classic cars of note, including the finest examples ever produced by the likes of Ferrari, Lamborghini,
Aston Martin
, Jaguar, Mercedes-Benz and Rolls-Royce, among so many others. But the unquestioned "belle of the ball" was
Ralph Lauren
's stunning 1938 Bugatti Type 57SC Atlantic Coupe.
The Atlantic is widely regarded as one of the most beautiful cars ever made, coveted by collectors the world over. With only four ever made and three in remaining in existence, it's one of the rarest and as a result, the most valuable. Getting one of those three owners to part with the luxury auto is a rare achievement, and the last time one was sold three years ago, it went for between $30 and $40 million. (Exact details of the private treaty sale by the estate of Dr. Peter Williamson were not disclosed, but the car has been displayed at the noted
Mullin Automotive Museum
dedicated to Art Deco cars in Oxnard, California.)
Fashion icon Ralph Lauren counts a Bugatti Atlantic as the pride of his famous classic car collection, alongside his Ferrari 250 GTO, two Testa Rossas and three McLaren F1s, to name just a few. He pledged his Atlantic to display at Villa d'Este four years ago and when he finally made good on his promise this year, his efforts did not go unrewarded.
Lauren's stunning black Bugatti swept every top category for historic cars at the Concorso d'Eleganza this year, including the juried Trofeo BMW Group for Best in Show and the Coppa d'Oro Villa d'Este (voted by public referendum among show-goers), as well as the Trofeo BMW Group Italia and the Trogeo Ragazzi voted upon by attendees under the age of 16. In other words, there was no doubt left that the Atlantic was the most beautiful car on display at this spectacular gathering of classic cars.