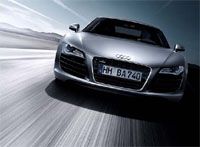 2008 Audi Review:
The Audi R8 is on a mission to put Audi on the same pedestal as those other two prominent and dominant German automobile manufacturers. The R8 is two-seat coupe that draws its great looks from the Lamborghini Gallardo. It revs up to 7,800 RPM and goes from zero to 62 mph in 4.6 seconds and tops out at 187 mph. This is without question Audi's muscle car. It has all-wheel drive and a 420-horsepower 4.2-liter V8, which is positioned behind its two seats. An optimized six-speed manual transmission comes standard, while a direct-shift, six-speed gearbox with a paddle shifter and joystick gear lever is optional. The Audi Space Frame (ASF) is a combination of aluminum and steel that gives the vehicle better stability and quicker acceleration. The R8's suspension automatically adapts to driving conditions and can be set on either "normal" or "sport." However, it is quite the stretch to call anything "normal" on this beastly vehicle.
The R8 comes directly from the Audi used in Le Mans-series endurance racing. The R10 has replaced it. Its Lamborghini-style looks are intentional with its side blades, full-LED rear lights and illuminated engine compartment. The cockpit is a pure-adrenaline prompter fully complemented by the flat-bottom sport steering wheel. A Bang & Olufsen 12-speaker sound system with 465 digitally amplified watts is specially designed to fit into the coupe's ambiance.
The Audi R8 is the most successful prototype LM P1-class vehicle of all time, with its 61 wins in 77 races, 49 pole positions, and 59 fastest laps recorded. It has achieved five victories in the 24 Hours of Le Mans, six consecutive wins of the American Le Mans Series and six consecutive winners at the 12 Hours of Sebring contests.
The 2008 Audi R8 is scheduled for a fall 2007 debut with an anticipated price around $100,000. Germany's other prominent mass automakers had better take notice.
For LxM James Rothaar
Audi R8 European Model
Audi R8 European Model
Audi R8 European Model
Audi R8 European Model