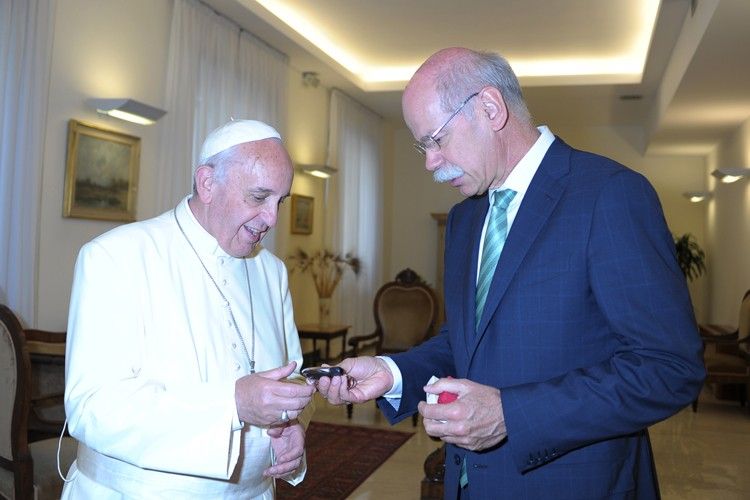 Photos Courtesy of Mercedes-Benz
To over a billion believers around the world, the Pope may be the human representative of heaven on earth, but that doesn't mean His Holiness can fly around on a cloud. No, he needs a car just like the rest of us. And that role usually falls to
Mercedes-Benz
.
The German automaker has been supplying the Vatican with special vehicles to transport their head of state for decades. The relationship started in 1930 with the Nürburg 460 Pullman which Mercedes supplied to Pope Pius XI, and has carried through to his modern-day successor, Pope Francis.
In a private audience recently held at the humble guest house at the Vatican, which Francis has favored over the luxurious papal apartments,
Daimler
chairman Dr. Dieter Zetsche presented the Pope with the keys to his new Popemobile (as the vicar's vehicle has become known). Based on the M-Class, it replaces the previous M-based vehicle used by Benedict XVI and the G-Class used by John Paul II. The new Popemobile is accompanying Francis on his official visit to Brazil.
"We are delighted that His Holiness Pope Francis has decided to trust in the safety and comfort of our vehicles and that, by providing the popemobile, we will continue to accompany him on his travels in the future," said Zetsche after the meeting. "This tradition is a huge source of pride to us."
The two European leaders also discussed such issues as transportation safety and environmental protection, as Zetsche showed Francis the company's new Smart electric bicycle. Still, the reception of the new Mercedes came at a somewhat ironic time, just days after Francis made headlines appealing to other men and women of the cloth to
forgo buying the latest luxury automobiles
in favor of more modest means of transportation in light of world hunger. To his credit, Pope Francis was known to take the bus often while serving as a Cardinal in Argentina, and typically gets around Vatican City in a lowly Ford Focus.