Home > LifeStyle > Luxury Cars >

Test Driving the All Grown-Up 2014 MINI Cooper/S Through the Narrow Streets of Puerto Rico
Mila Pantovich View Profile

Lifestyle Editor | JustLuxe
Test Driving the All Grown-Up 2014 MINI Cooper/S Through the Narrow Streets of Puerto Rico
Feb. 5th, 2014 | Comments 0 | Make a Comment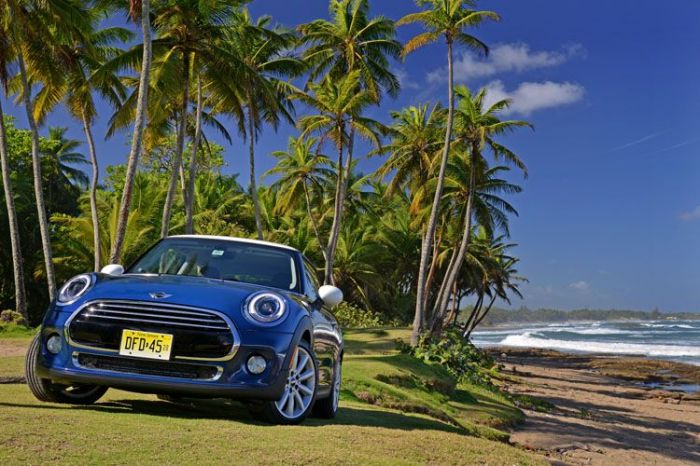 Photos Courtesy of MINI
My very first memories of the MINI are of sitting on the floor in front of my dad, watching Michael Cane tear through the streets in The Italian Job and laughing as Mr. Bean drives with his feet as he scrambles to get ready for a dentist appointment. I wanted one of those cars, because my dad loved them — it was that simple. Now, after having been invited by MINI to test drive their new 2014 Cooper Hardtops through the windy roads of Puerto Rico, I want one for a whole new slew of reasons.
Recently, I joined journalists from all over the world at Dorado Beach, a Ritz-Carlton Reserve, where the entire resort was cleverly adorned with MINI accents. From the gorgeous luxury rooms that open straight out onto the beach to the amazing auto unveiling (complete with a local singer and JetLev's Aquaboards propelling people 30 feet out of the water) this was certainly an event to beat.
MINI set us up with a two-hour preplanned route from Dorado Beach to the Gasolina Beach Club (and a different route back again), which took us through small towns, scenic beaches, and mountainous jungle roads. Not only did the route allow us to really get a feel for the car's (in my case, a Volcanic Orange Cooper S) usefulness in incredibly narrow single-lane roads, it also gave us a variety of terrains to try the suspension out on (and when they say to beware of potholes, they mean it!).
That classic exterior bulldog shape may look familiar (because, why mess with their instant brand recognition?), but MINI actually completely redesigned their new line from the inside out — including the engines, transmissions, interior, and chassis. The 2014 Coopers have been given an extra 4.5 inches in length and an added 1.7 inches in width (the luggage area has grown too), helping to give the little auto some much needed stability at top speeds. The Cooper S boasts 189 horsepower, a turbocharged 2.0-liter four-cylinder, and 207lbs/ft. of torque; while the base Cooper comes with a three-cylinder engine with 134hp and 162lb/ft. of torque.
"The new inline engine family benefits from evolutionary technology improvements, based on the existing 'Twin Power Turbo' engines. The predecessor engine to the new MINI Cooper S has been voted 'International Engine of the Year' three times in the past," explains Manfred Poschenrieder, BMW Group, Corporate and Governmental Affairs, Spokesperson Efficient Dynamics. "The rather revolutionary steps with the new engines are the similarity of technology for all engines which allows us to focus on further development of one technology and the high flexibility in production and assembly."
The Cooper S automatic is pretty fast for what it is, getting you up to 60mph in 6.4 seconds, without feeling forced or shaky at higher speeds. Plus, while most automatics tend to give a lesser experience than manuals, the S has a pretty great transmission compared to its predecessor and the paddle shifters are much faster.
All 2014 models will come standard with adjustable driving modes — Mid, Sport, and Green — which all allow you to drive the car very differently, from tightening the steering to altering the ride quality. The Green mode, for example, actually gives a physical aspect to driving "greener" by adding just the slightest bit of resistance to the gas pedal to keep your lead foot from going out of control and getting you the most out of its gas mileage. They really do a great job in making you feel like you're driving three different cars.
"Changing mindsets, demanding environmental aspects, urbanization: We are heading towards an incalculable future," says Poschenrieder. "The new engines will strengthen our overall competitiveness and improves flexibility to react on future market needs."
As lovely as the engine is, the handling and interior are really where the new Mini Hardtops shine. Going back to the suspension, I was amazed at how well the Cooper S absorbed the incredibly bumpy mountain roads — far better than a lot of other luxury car brands I've tested out — without making you feel like you're bouncing around in a bumper car. If you're wondering about the brakes, I can honestly say they're pretty darn great. Trust me, with over a dozen stray dogs roaming the streets, I had to suddenly brake on more than a few occasions.
"MINI drivers in general do highly appreciate the go-cart feeling which we were able to further improve with the all new MINI. At the same time, we've strongly focused on improving the overall quality, touch and feel of the new model," adds Poschenrieder. "MINI is a lifestyle."
Bringing in details like LED headlamps and a brand new Head-Up Display, raises MINI up to sit pretty with some of our favorite luxury car brands. All of the materials used inside seem really high quality, which is much better than the past models where people complained of the slightly "cheap" appearance. The driving instruments — like the road speed, engine speed and fuel level — have been moved to the steering column, allowing the center console to be entirely dedicated to a large 8.8-inch color infotainment screen.
The circular instrument is pretty cool and gives real-time interaction between the driver and the car, the outer edge changing colors depending on how you're driving, the music you're listening to, and the temperature. For example, if you're a bit too warm and you turn the AC on, the ring will glow blue. Though it's not touch screen, the large controller down at seat level is pretty responsive.
Many safety features were also brought in, like a rear backup camera, automatic parallel parking (which I actually didn't try, because why would you need help parking a MINI?), cruise control with distance markers and automatic breaking, speed limit information, and a high beam assistant that takes environmental light and oncoming cars into account.
MINI diehards may take issue with the bigger size, but even the smallest of cars have to grow up a little to keep up with such a demanding market. And they've even done this without sacrificing the Cooper's character, which is definitely no easy task. Plus, considering how much the company loves their fan base, from participating in MINI-themed weddings to the bi-annual MINI Takes the States rally, at least you know you're well taken care of. Maybe it was the sunny Puerto Rican air (complete with sporadic rain showers) or my already deeply rooted affection for the brand, but the new grown-up 2014 Cooper was a blast to drive and I'm definitely putting it on my wish list.
Available in the Spring, the MINI Cooper starts at around $19,950 and the Cooper S begins at $23,600.
Finding the best in luxury can be a daunting task, which is why we've taken it on for you.
LET'S CONNECT LUXURY NEWS & MORE