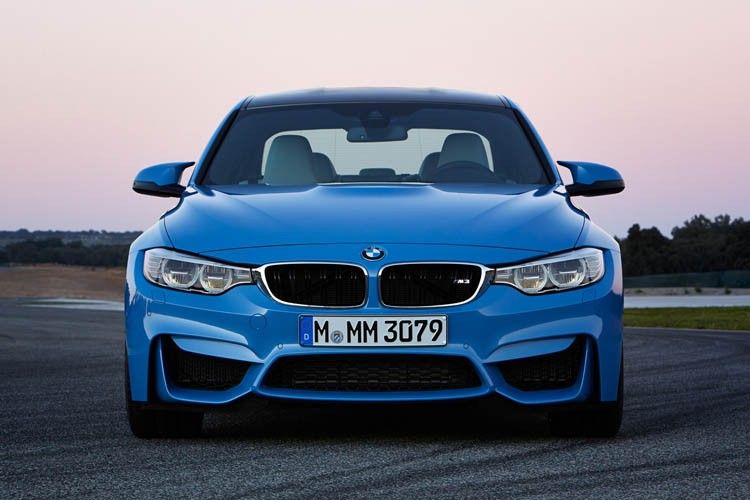 Images Courtesy of BMW
The BMW M3 is one of those rare performance icons – a model line that defines the segment and the benchmark against which its rivals are compared. Everything from the Mercedes-Benz C63 AMG and Audi RS5 to the Cadillac CTS-V and new Lexus RC F are invariably measured against the yardstick from Bavaria. But as iconic as the M3 has grown over the years since the introduction of the original in 1988, it has become somewhat obscured by the sheer variety of formats in which it has been offered: The outgoing model was available as a coupe, convertible and sedan. And while the M division never (officially) turned the 3 Series Touring into an M3 wagon, it did build a pickup version to haul its gear around. But now BMW is splitting the lineup into two.
For the latest generation, BMW is offering the M3 as a sedan and is spinning the coupe off as a separate model called the M4. Both were presented for the first time at the Detroit Auto Show in January and, save for the extra pair of doors, are virtually identical.
Replacing the high-revving (and gas-guzzling) 4.0-liter V8 in the outgoing M3, the new model packs a 3.0-liter turbocharged inline-six. But don't let the drop in displacement and cylinder count fool you: the new turbo six produces 425 horsepower and 406 lb-ft of torque – more than any M3 that came before. In fact the original M3 offered less than half the new model's output. It's also slightly more powerful, significantly torquier, much more usable and vitally lighter in weight than the high-revving V8 in the model it replaces.
"The engine is the heart of every M model, and the new turbocharged six-cylinder unit fitted in the two new cars combines the virtues of a high-revving naturally aspirated unit with the strengths of turbocharger technology," said Dr Friedrich Nitschke, head of BMW M GmbH. "Meticulous and passion-fuelled development work has underpinned the creation of two high-performance sports cars that set new standards in terms of overall concept, precision and agility."
That's why BMW is quoting a blitzschnell 3.9-second 0-60 time for either sedan or coupe equipped with the dual-clutch transmission, or 4.1 seconds for the six-speed manual. Coupled with a top speed electronically limited (as per German custom) to 155 miles per hour and you've got one heck of a performance machine on your hands, whether you're tackling a high-speed run down the Autobahn, a hot lap around the Nürburgring or a run down to the local grocery store.