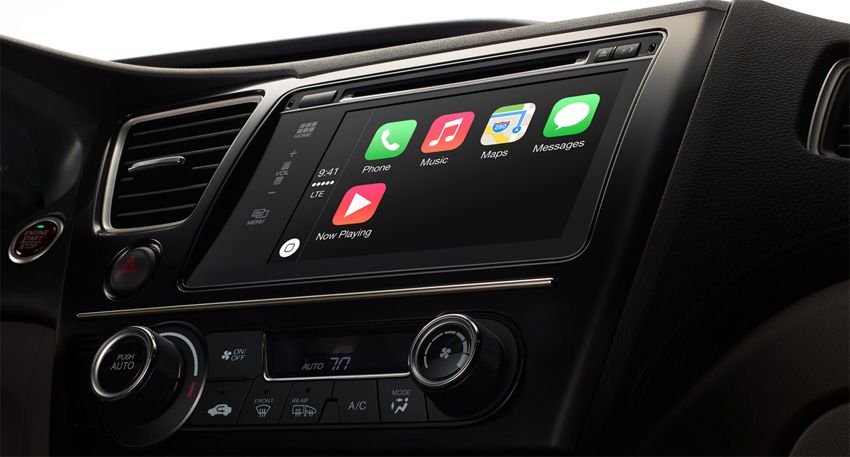 Photos Courtesy of Apple
Apple has announced this week that its new CarPlay system will be available to the public by the end of this year. First revealed as 'iOS in the Car' at Apple's 2013 Worldwide Developers Conference last year, the computer giant took the opportunity to reveal the news this past Monday at the Geneva Motor Show. Featuring the aspects of an iPhone that people so often use in their cars, users will have access to a wide range of products and cloud storage right from their car dashboard, eliminating the need to hold a device.
Premiering this week in assorted car models from Mercedes-Benz, Ferrari and Volvo, Apple's new in-car infotainment device plugs into a user's iPhone and will allow control through the dashboard touchscreen interface, the vehicle's tactile controls or via the ever-popular Siri voice control. Other car manufacturers that will offer CarPlay in upcoming models includes Honda, Hyundai, Chevy, Ford, Jaguar, Nissan, Opel, Peugeot, Toyota, Subaru, Mitsubishi, Suzuki, BMW, and Land Rover.
As iOS fans should expect, the return of Siri (whose presence might just make the touchscreen control fairly unnecessary) when selecting GPS navigation, music playlists, or sending and receiving text messages should make console control not only more convenient, but notably safer. Likewise, a number of iPhone apps will be supported through CarPlay, including iHeartRadio, Spotify, Beats Music, Podcasts, Stitcher and more. However, CarPlay is currently only compatible with iPhone 5, 5c and 5s models, meaning older iPhone owners are just as out of luck as those who use Android or Blackberry smartphones.
Some may see it as just another Apple gimmick, but capitalizing on the fact that people just can't seem to put their phones down while driving seems like a smart move to us. Plus, it should make the roads a little safer too. It could even become a deciding factor as to whether or not someone wants to buy a specific car.