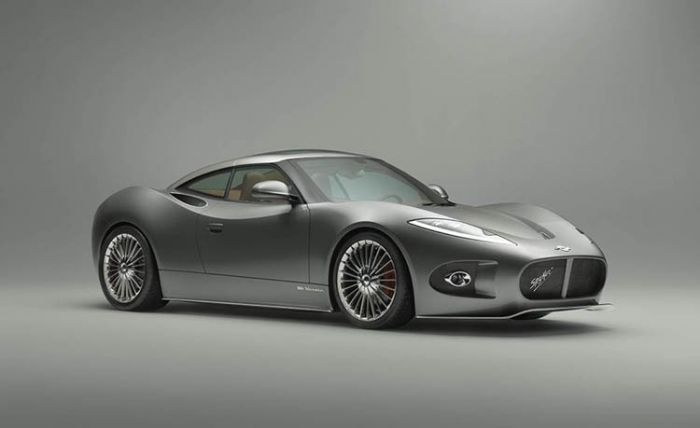 Photos Courtesy of Spyker
Typically if you want to buy a new car, you go to the dealership and place an order. If it hasn't come out yet or there's a wait list, you might put down a deposit and bide your time until your place on the list comes around — particularly if you're in the market for something as high-end as a Ferrari or Bugatti. But Spyker is doing things a little differently with its upcoming new sportscar.
If you're scratching your head and wondering who Spyker is, allow us this brief history lesson. Spyker is a Dutch automaker with roots that trace back to 1880 when it made coaches for nobility — including the famous Golden Carriage used to this day by King Willem-Alexander of the Netherlands. Spyker got into manufacturing aircraft around the time of the First World War, then got back into building cars and trucks until it declared bankruptcy in 1926. Fast forward to 1999 when a group of investors brought the name back out of retirement with the Spyker C8, a rare but exquisitely crafted sportscar. Numerous versions followed, including the C8 Spyder, Laviolette, Double 12, and the Aileron that's still in production. But Spyker got a bit distracted along the way. It bought an F1 team in 2006 (which it sold the following year), sought to break into the luxury SUV market around the same time, and in a much more ambitious move, bought Swedish automaker Saab from General Motors in 2010. That endeavor almost bankrupted the company before it sold Saab to Chinese investors in 2012.
Now Spyker is back where it belongs, focused on building a niche line of sportscars for those who can afford it. Only it's left with little capital to invest. So rather than start accepting pre-orders and deposits — or selling part of a collapsed business to get itself off the ground again — Spyker is selling bonds. Buy one of the 100 bonds Spyker is issuing at £100,000 (around $164,810) now and, in three years, you'll be able to redeem your bond for a special-edition Venator with a special color scheme and badging that's valued at over £125,000 ($206,112). That's about half of what you'd pay for a C8 Aileron, helping Spyker tap into an entirely new market than it had ever competed for before. Alternatively, investors can hold on to their bonds for four years and redeem it for upwards of £130,000 ($214,357).
The B6 Venator was shown as a concept car at the 2013 Geneva Motor Show and as a convertible at the Pebble Beach Concours d'Elegance last summer, where it garnered a great deal of attention. The compact sportscar is similar in size to a Porsche Cayman or Lotus Evora, powered by a V6 engine with 375 horsepower on tap. But best of all, it's got that Spyker level of craftsmanship, with finely-crafted aluminum fixtures and sumptuous quilted leather that would make Jules Verne feel like his carriage had finally arrived.
"I wanted to give like-minded drivers who demand the highest standards a new choice, one that delivers a rare combination of heritage, design, performance and exclusivity," says Spyker CEO Victor R. Muller. "That describes the Spyker B6 Venator perfectly. Now with the Spyker Venator Bond, like-minded investors can take part in a first-of-its-kind financial opportunity designed for them in the uniquely Spyker vein."
With the Spyker Venator Bond and a second Spyker Bond to follow, the company hopes to raise some £20,000,000 ($32,978,000) in capital to finance the expansion of its production capacity in order to meet the demand it sees for the Venator. It's an interesting way of going about building cars, a form of crowd-funding the technology sector has already embraced but which has, with few exceptions, not taken hold in the automotive industry. If Spyker can make a go of it, it will have succeeded not only in its own resurgence, but also in forging a new way of buying a car that does not yet exist.