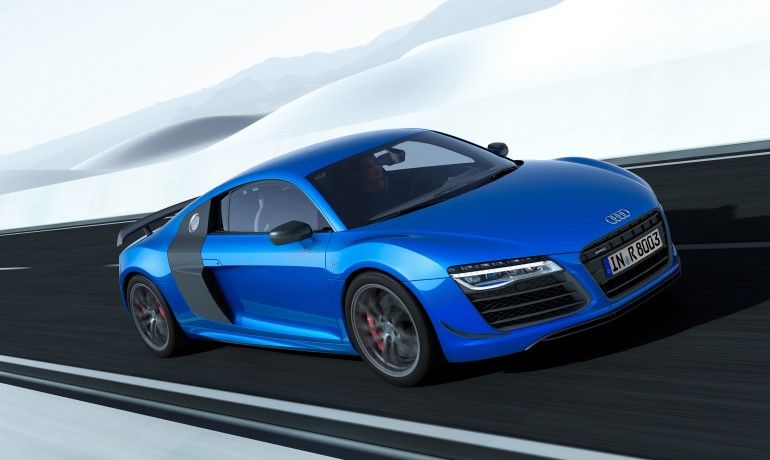 Photo Courtesy of Audi
Adding lasers to something makes it instantly cooler — it's a fact — and considering Audi is obsessed with lights (they led the LED craze), it's no surprise that they've now added lasers to their headlamps. The new Audi R8 LMX has some seriously hi-tech beams that apparently offer way more light at greater distances than their boring counterparts — something which you'll need when tearing down a dark road in the 570hp beast.
Each headlight has one laser module (each comprising of four high power laser diodes) which gives a cone of light that's twice the range of LED. "With a diameter of just 300 micrometers, these generate a blue laser beam with a wavelength of 450 nanometers. A phosphor converter transforms this into roadworthy white light with a color temperature of 5,500 Kelvin — ideal conditions for the human eye that enable the driver to recognize contrast more easily and help prevent fatigue."
The laser spot activates once you hit speeds of 37mph and faster and works to supplement the LED high beam, enhancing visibility and safety. There's even a super smart camera-based sensor system that can detect other road users and actively adjust the light pattern appropriately.
The sports car (limited to only 99 built) will go on sale in Germany next month for approximately €210,000 ($287,637), which will get it to consumers before the BMW i8 and make it the first production car that uses lasers for lighting up the roads.