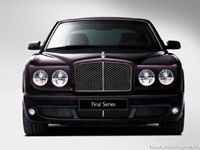 Luxury Cars:
Next week's Paris Motor Show will see Bentley unveil the last hurrah for the flagship Arnage saloon in the form of a "Final Series" edition before the all-new model arrives in 2010. Derived from the sports-oriented Arnage T released last year, the Final Series models will get the same 500hp (373kW) 6.75-liter V8 engine that develops a massive 738lb-ft (1,000Nm) of torque and is mated to a 6-speed automatic.
Bentley has always been the sporting choice compared to the equivalent Rolls Royce and, despite the Arnage's weight of close to three tonnes with driver on board, performance is expected to be very tidy with 0-62mph times of around 5.5s and a top speed of 180mph (290km/h).
That's not to say the Final Series Arnage isn't still a super-luxury vehicle. Hand-stitched leather and polished wood are de rigueur in this class, but the Arnage also gets a bespoke flask and shot glasses for rear-seat passengers stowed in a cocktail cabinet. Rear seat passengers also get seatback picnic tables on which to enjoy their drinks and caviar.
On the outside Bentley has fitted the obligatory "Final Series" badges on the front fenders and add a new wheel and tire package pulled from the Brooklands coupe. It also gets the Brooklands' more aggressive front-end with lower air intakes. Finally, Bentley is offering the famous retractable hood ornament and a jewel filler cap as standard equipment as well. Buyers will be able to option the new "Bentley by Naim" audio system along with iPod connectivity too.
The Arnage saloon has been around for 10 years now and is beginning to fall behind its rivals in terms of powertrains and overall refinement, especially considering both the Rolls Royce Phantom and Mercedes-Maybach have launched since its release. Bentley will be releasing an all-new Arnage in the near future and you can see early spy shots of it here.
It?s expected the new Arnage will be based on a stretched Audi aluminum spaceframe being developed for the next-generation A8. Audi-derived powertrains could also be used however they will likely be significantly modified. Bentley's Continental GT range utilizes Volkswagen-engineered W12 engines although they are fitted with twin turbochargers for better performance.
By
Motor Authority