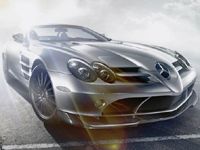 Luxury Cars:
Mercedes Benz has confirmed that its longstanding partnership with British sports car manufacturer McLaren to build the SLR supercar will soon come to an end, and to celebrate production of the last SLR Roadster a special edition model will go up for auction. The car has been designed specifically for the United States and all proceeds from its sale will go to the St Jude Children's Research Hospital.
The vehicle will come with a unique Sienna Pearl metallic paint scheme and a Tobacco Brown leather interior, and will be the only one of its kind in North America. The rich brown paint is a special finish reserved specifically for the SLR Roadster and features metallic elements that are three times the size of traditional metallic paint. Another unique feature will be a special braking system accented with gold brake calipers.
The SLR Roadster's 5.5L supercharged V8 engine remains untouched, delivering 617hp (460kW) and 575lb-ft (780Nm) of torque. This is enough to accelerate the vehicle from 0-100km/h in 3.8 seconds.
The online auction will take place on November 20th, from 1 p.m. to 5 p.m. EST, but more details and pre-registration will be available from November 1. While the SLR Roadster usually sells for $529,500, there is expected to be a large premium due to the unique nature of this being the final one ever built.
Production of the recently revealed SLR Roadster '722 S' will continue into the first half of next year by which time McLaren will also begin producing the final SLR "Speedster" model, which has been spotted testing in prototype form for the past several months.
By
Motor Authority