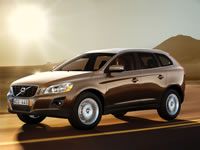 2010 Volvo XC60:
The automaker renowned for its groundbreaking safety features has once again raised its standard of excellence with the 2010 Volvo XC60. While the look of this crossover is indeed a bona-fide traffic-stopper, this is a car that literally can stop itself. Volvo calls this amazing technology, which is a standard feature, City Safety. In slow moving traffic, the XC60 is capable of stopping should the vehicle ahead of it suddenly stop or slows down-even if the driver has a brief lapse in concentration and fails to react. It is okay as the car stops anyway.
City Safety operates at speeds from 9 to 18 mph, as it makes 50 calculations per second to determine the appropriate brake force required to avoid a collision or to reduce the impact of it. Other safety options include Volvo's Adaptive Cruise Control system, which includes driver-alert control, a lane-departure warning, and a collision-warning mechanism with auto brake. Although Volvo's commitment to all-encompassing safety for drivers and passengers is unparalleled, the XC60 has other equally appealing attributes.
The 2010 Volvo XC60 has instant traction and an automatic six-speed Geartronic transmission. A T6 all-wheel drive six-cylinder engine with 281 horsepower and 295 lb/ft of torque provides the power. The sleek aerodynamically compelling crossover weighs in at 4,174 pounds and is just over 182 inches long and approximately 84 inches wide. The vehicle is presented in 10 stylish colors. Eight of the 10 colors are offered in an optional metallic.
The inside of the XC60 gives occupants in the front and rear plenty of space for maneuverability. The vehicle has powered front seats and the upholstery is offered in four styles of supple leather. Additionally, there is dual-zone climate control to maximize comfort throughout the cabin.
The audio equipment includes Bluetooth, SIRIUS satellite radio, and auxiliary inputs for an iPod® and other MP3 players as well as a USB port. There is an audio remote control positioned inside the steering wheel. The optional premium sound system comes with Dynaudio and includes a high-definition radio. Other options include a Volvo navigational system and a park-assistance camera.
Owners of the 2010 Volvo XC60 receive value that goes beyond the impeccable quality of their automobile with a complimentary factory-scheduled maintenance program for three years or 36 months. The base MSRP of the Volvo XC60 is $37,200. Visit the company Web site and build one to your liking.
See the car that stops itself at
www.volvocars.com
.