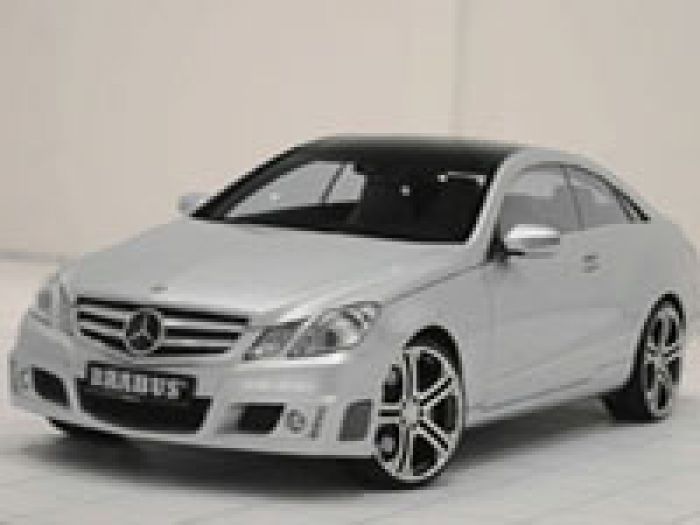 Luxury Cars:
After the 2010 Mercedes-Benz E-Class Sedan, Brabus revealed today its new customization kit for the 2010 E-Class Coupe. As usual, under the hood, we have the BRABUS 6.1 displacement (the displacement increase of the eight-cylinder engine sells for €29,000) an engine capable of delivering an impressive 462 hp (456 bhp) / 340 kW and an impressive 615 Nm (453 lb-ft) of torque. With these numbers, the car can hit 100 km/h (62 mph) in just 4.7 seconds and a top speed of 315 km/h (196 mph). For the turbodiesel models, Brabus offers its ECO PowerXtra kits: the E250 CDI BlueEFFICIENCY is boosted for €1,390 from 204 hp (201 bhp) / 150 kW to 235 hp (232 bhp) / 173 kW and 560 Nm (413 lb-ft); - the V6 turbodiesel engine found on the E350 CDI BlueEFFICIENCY produces 272 hp (268 bhp) / 200 kW and a peak torque of 590 Nm (435 lb-ft).
The design was improved using a front spoiler with integrated LED daytime running leds, new aluminum front sport quarter panels with integrated clear-coated carbon-fiber inserts and a rear apron featuring a centrally mounted reflector and custom-tailored cutouts on either side for the four tailpipes of the BRABUS sport exhaust system. The kit is completed by the BRABUS Monoblock light-alloy wheels with diameters of 17, 18, 19 and 20 inches.
Brabus also offers a new high-performance brake system which uses six-piston aluminum fixed calipers and 360-mm (14.2 inches) vented and cross-drilled discs on the front axle while the rear axle stops with four-piston aluminum fixed calipers.
Inside we have lots of options such as: stainless-steel scuff plated with illuminated BRABUS logo, a BRABUS sport steering wheel and an entirely new interior crafted from especially soft yet durable BRABUS Mastik leather and Alcantara.
Andrew Christian
4wheelsnews
JustLuxe
Contributor