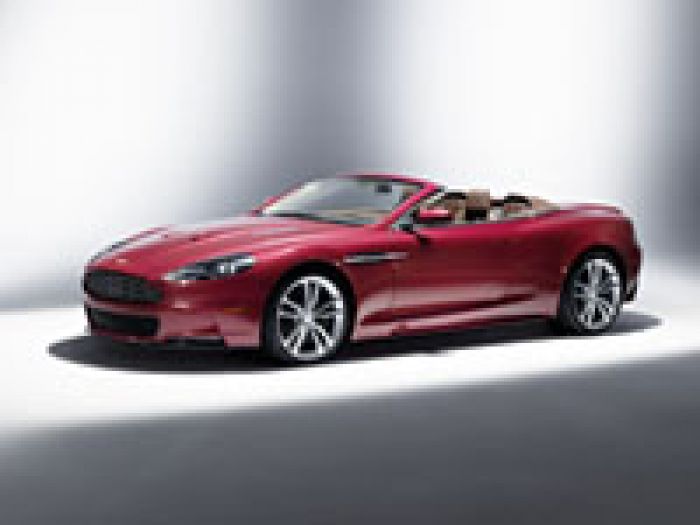 Luxury Cars: Hold your breath and accelerate--driving an Aston Martin is no longer an experience but a tactile memory. Your center of gravity is altered as the 2010 DBS Volante propels you forward, hinting at the unbridled power residing just beyond your reach in the V12 engine.
When first given the opportunity to review the vehicle I had planned on writing a story geared towards a weekend getaway, tying in elements of the DBS along the way. However, within my first two hours in the new 2010 DBS Volante, I realized my "getaway" wasn't at all about going anywhere. I had already arrived at what was to be my location of choice for the weekend sitting in the cockpit of this exotic and refined automobile.
From 0 to 62 mph in less than five seconds (4.3 seconds to be exact), the DBS Volante demonstrates its hand-built, all alloy 6.0 litre V12 engine flawlessly. With a top speed of 191 mph, producing 510 bhp and 570 Nm of torque, the Volante is a force to be reckoned with.

As Aston Martin's 16th convertible in 95 years, the DBS Volante draws on nearly one hundred years of the brand's extensive experience designing exceptional and iconic Volantes. The new DBS is a 2+2, featuring two standard occasional backseats perfect for younger passengers or extra luggage space, making it a practical, everyday sports car.
At the touch of a finger, the roof retracts and is stowed away seamlessly; within seconds you are coasting under the sun (or the moon and stars). Thanks to a new five-piston hydraulic pump, the newly choreographed hood has an astounding opening time of only 14 seconds and is tucked away under the newly sculpted tonneau cover, redesigned to enhance the muscular stature of the DBS Volante.
In utilizing a fabric hood, the DBS Volante retains its sculptural shape and lines while minimizing overall weight gain, which is also aided by a bonnet, front wings and boot lid all constructed from carbon fiber to considerably reduce weight. To prevent the weave from protruding through the paint finish, Aston Martin employs a patented "surface veil" technology, which applies a 200-micron-thick layer of epoxy glue to the carbon fiber before the application of seven layers of paint, producing a class A level finish.
| | |
| --- | --- |
| | The DBS Volante is available as a standard with a rear-mounted 6-speed manual gearbox with optimized gear ratios to extract the utmost in performance from the 6.0-litre engine. Always keen on providing their discerning customers with personalization capabilities to suit their style and needs, a "Touchtronic" 6-speed automatic, featuring a torque converter, is also available as an option. By pulling one of two leather-trimmed magnesium alloy paddles mounted on the steering column, Touchtronic mode is activated, enabling the driver to control gear shifts via the paddles. |
The sensory experience of driving the DBS Volante is completed by the aural component: Bang & Olufsen's BeoSound DBS audio system. Developed exclusively for Aston Martin and specifically revised for the DBS Volante, the BeoSound DBS does what most car audio systems do not: it takes into account the fact that it is being utilized in a moving vehicle; more importantly, a sports car.

The system is acoustically and physically matched to the DBS Volante. Loudspeaker grilles are finished with smoothly contoured aluminum that integrates seamlessly with the fluid lines and curves of the lavish cabin. The technology of the system itself has been tuned and adjusted to sense when the roof is up or retracted; it modifies the sound stage to compensate for wind noise and the car's change in acoustics. As perfectly tuned as the sound system is, you may just want to turn it off altogether as you become addicted to the growl of the engine.

The DBS Volante raises the bar and makes it look effortless. Aston Martin, already an unparalleled icon in the luxury automobile industry, is on its way to becoming a titan of legendary proportions. Having just released the Rapide in September of this year, the brand's first true four-door sports car, Aston Martin looks to bring in the new year with their most exciting, true sports car yet, the 2010 DBS Volante.

For JustLuxe Kamran Razavi