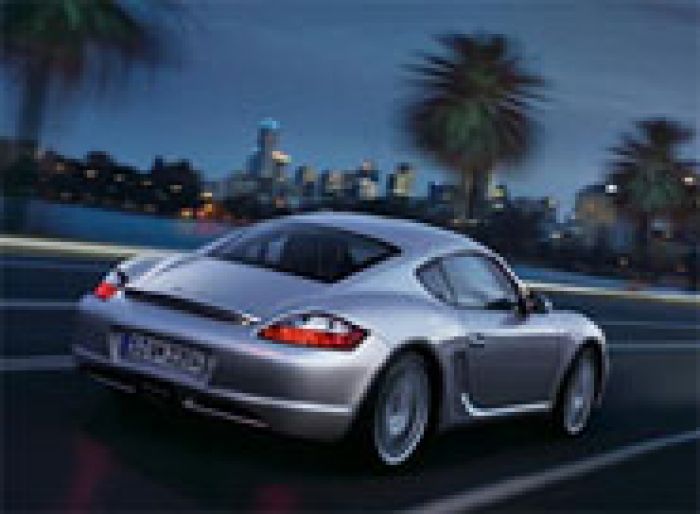 Luxury Autos:
Many pundits call the Porsche Cayman models Boxsters with a hardtop. The Cayman (no "S") mid-engine coupe goes from zero to 60 mph in approximately six seconds and has a top track speed of 160 mph. With a bigger engine and an accompanying higher price tag, the Cayman S is a bit faster with its top track speed just over 170 mph, and the S package goes from zero to 60 mph in just a whisker over five seconds. The Cayman delivers 245 horsepower, while the Cayman S has 295 horsepower. A six-speed manual transmission or a six-speed Tiptronic S is available for both models. Both models are speedy enough that if a driver is caught speeding either one, the fine or length of a license suspension should be about the same. Please remember that Porsche, and other responsible land-rocket manufacturers, refers to peak acceleration level of a vehicle as "track speed" and not "pray you never get caught driving at this speed"! A biplane spoiler automatically pops out for added wind resistance and stability when the coupes are driven at 75 mph
Beyond the Caymans' standard seats, leather sports seats, power seats, or adaptive sports seats are optional. Sports seats offer higher side bolsters on the backrest, provide additional lateral support, and have electronic and manual settings like the standard seats. Power-seat adjustments are fully electronically adjustable, while adaptive sports seats combine the best of sports and power seats. Power seats and adaptive sports seats can be pre-set for two drivers via remote control. Two remote controls are provided, so when the car is opened by either of the two remote controls provided, the driver's seat automatically adjusts itself, accordingly.
A Bose Surround Sound System is standard on the Cayman S and optional on the Cayman. The Porsche Communications Management system, with its extensive list of features, is optional equipment for both models. Both Caymans' instrumentation panels are traditionally Porsche and easy to read. Additional storage space is innovatively integrated into the dashboard and throughout the vehicles. Storage space in the trunk is good too.
The kings of vehicular market research, J.D. Power & Associates, named the curvaceous Porsche Cayman the Highest Ranked Compact Premium Sporty Car in Initial Quality. Visit Porsche's website and design your own car.
For LxM James Rothaar