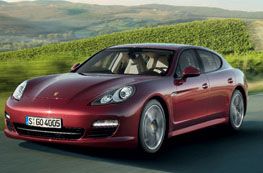 Luxury Cars:
Due to the big success of the
Porsche
Panamera, the German manufacturer has decided to expand the range of models with two new entry-level versions: Panamera and the Panamera 4.
Both models will hit the dealerships in May 2010 and will carry a brand -new 3.6-litre V6 featuring Direct Fuel Injection and developing maximum output of 300 bhp (220 kW) plus peak torque of 400 Nm/295 lb-ft. As you may know already the Panamera will be rear-wheel drive while the Panamera 4 will be offered as a standard active all-wheel drive.
Equipped with the PDK Porsche-Doppelkupplungsgetriebe (Porsche Double-Clutch Gearbox) and Auto Start Stop in order to be more fuel efficient, the cars will consume far less than 10 litres of fuel on 100 kilometres in the New European Driving Cycle.
According to the manufacturer, the Panamera will need 9.3 litres/100 kilometres (equal to 30.4 mpg imp) while the Panamera 4 averages 9.6 litres/100 kilometres, equal to 29.4 mpg imp. Porsche will also offer 19-inch all-year tires with optimized roll resistance available as an option in order to reduce fuel consumption by another 0.2 litres/100 kilometres, giving the Panamera a CO2 rating of just 213 g/km, the Panamera 4 an equally impressive 220 g/km.

The Panamera and Panamera 4 will make their world debut on 23 April 2010 at the Beijing Motor Show and as we said they will enter the German market in May 2010; they are scheduled to enter the US market in June. Both V6 versions of the Panamera fulfill the strict EU5 emission standard in Europe and the LEV standard in the United States. Prices start at 75,899.- including value-added tax and national specifications for the Panamera (base price in the Euro countries €63,600.-) while the Panamera 4, offered as standard with PDK will carry a price tag of €84,110.- including VAT and national specifications (base price €70,500.-).

Andrew Christian
4wheelsnews
JustLuxe Contributor