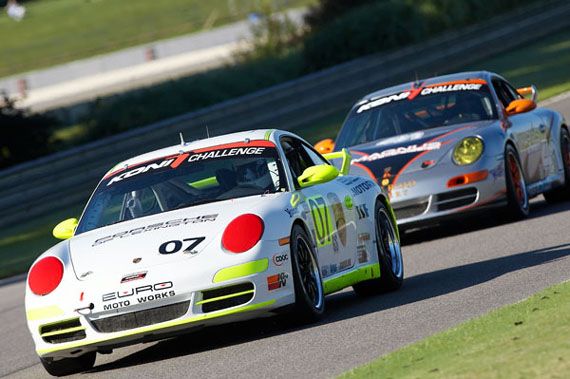 Porsche Driving Schools:
The Porsche Sport Driving School is the ultimate adventure for driven Porsche enthusiasts. Sponsored by Porsche Cars North America, the purpose of the school is to teach drivers how to maximize both safety and performance while driving racy Porsches. The courses offered are not just for owners, as all cars used are owned by the PSDS. So, anyone with either a passion or an interest is invited to strap on a helmet, and participate in a one- or two-day course taught by savvy racecar drivers with impressive résumés. Generally, the students-to-instructor ratio is four to one, and there usually are 24 to 30 student drivers participating.
The
Porsche Sport Driving School
is located in Birmingham, Alabama, at the Barber Motorsports Park. The outdoor classroom is a 2.38-mile track that is 45 feet wide and has an 80-foot elevation change. The venue hosts major events such as the Grand Am series and the AMA Superbike series. It is situated on 740 acres in the middle of the woodsy, verdant outskirts of Birmingham.
Mid-engine Porsches available to students include a Boxster, a Boxster S, and a Cayman S. The fastest vehicles provided are the rear-engine 911 Carrera S and the 911 Carrera at 182 and 177 mph, respectively. The Cayenne S, which is Porsche's all-terrain vehicle, is the turtle of the group with a top-track speed of 155 mph.

A one-day course costs approximately $1,795, and the cost of a two-day event is priced from $2,995 per driver. A guest is permitted to accompany a student at an additional cost of $125 per day. However, guests are permitted to drive only in vehicles driven by instructors. Additionally, there is a two-day advanced session that costs roughly $3,495 per participant. The fun starts at 8 a.m. and concludes at 4:45 p.m. The Ross Bridge Golf Resort & Spa is the recommended lodgings of the PSDS, as a special rate is extended to guests of Porsche.


To celebrate the 2011 Porsche Boxster Spyder, Porsche and JustLuxe have teamed up to bring you three exhilarating adventures. As part of the campaign, Porsche is offering a chance to win a one-day precision driving course, as well as accommodations at the luxurious Renaissance Birmingham Ross Bridge Golf Resort & Spa.