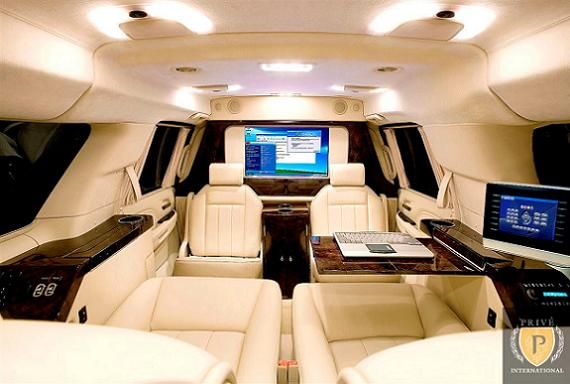 Autos & Vehicles:
When it comes to a global service company that sets the bar in the industry for providing luxury services,
Privé International
is a leader in the industry. Privé members require the best in service and quality which is why Becker Automotive is the number one recommended choice for Privé's members when it comes to automobile customization. There are few automobile customizers that set a standard in the industry like Becker Automotive. The company is in a class of their own and one of the true pioneers in the industry.
The story of how Becker Automotive came to be is an inspiring story of innovation and passion, and one which started back in the late 1970's. Howard Becker made his footprint in the world of automobile customizations during the L.A. auto sound scene some 40 years ago. In those days Becker states "I wasn't selling electronics. I was selling an experience." His toughest sell, though, was his own father, Bernard, who originally owned the shop.
The way Bernard Becker saw it, young Howard was bound to succeed as a lawyer. After all, his son had everything else, both on the athletic field and in the classroom. In 1966, Becker won a track scholarship to the University of Southern California, where he competed in both 400- and 800-meter events, ultimately earning world ranking in the quarter mile in 1969. In 1971 Becker got his M.B.A. and went to work for a management consulting firm, doing financial planning, marketing, and capital restructuring. He found himself drawn to the nitty-gritty of running his own company. Becker was becoming an entrepreneur, but he knew nothing about the world of the entrepreneurs, and had no tools to show him how to be one, "At that time, American universities didn't take entrepreneurship seriously," he explains. "Now, it's big, but back then it was mom-and-pop stuff. Business schools were geared to prepare their graduates for careers in marketing of finance with Fortune 500 companies or on Wall Street." Becker decided to do something about that. First he immersed himself in the literature of entrepreneurship. Then, at the age of 23, he started teaching it. It began as a noncredit course at Pierce Junior College in Woodland Hills, Calif. Shortly thereafter Becker's course became part of the accredited curriculum at California Lutheran University, where he continued to teach for the next 20 years. After having been successful at teaching entrepreneurship he though now perhaps it was time to put it into practice. And what a better place to do it that in his father's car radio shop.

Initially it was a frustrating process especially working alongside his father. His dad would give me jobs like stacking the shelves, just to keep him out of his way. But as Becker soon proved, he had a knack for selling. "I didn't just want to repair car stereos, I wanted to improve [their sound]. Dad had always prided himself on doing a job as economically as possible. The typical car of that time had an AM/FM radio in the dash hooked up to one monaural speaker. When customers wanted to convert to an 8-track tape and stereo system, Dad would say 'Keep the speaker in front; I'll just add another in the back. It'll be cheaper and save you money.' But the way I saw it, it wasn't gizmos people wanted-not more radios or speakers or more amps, but more music-a deeper, richer sensation." Soon, woofers were booming throughout the surrounding neighborhood and so was word about the Becker's radio shop. "The shop was situated in Hawthorne, a predominantly black neighborhood north of LAX, so our client?le wasn't affluent, but after a motor and four wheels, the people who came into the shop had to have music." The first breakthrough came as the result of attitude as much as an advancement in technology. "We looked at the car as if it were a home. What this means is, we took combinations of speakers-bass, midrange, and tweeters-and built them into the car much as you would build an in-home stereo system. It was the first time anybody had done that," says Becker. "We were always learning and looking for ways to improve sound. A car isn't like any other environment; it presents special challenges. The smaller the car, the more difficult it is to work with; the larger the car, the more room you have to mount equipment. Window glass can be particularly problematic. It reflects sound, while carpets absorb it. Audio direction is another consideration. Speakers are usually mounted in positions 'off axis' to the passenger's; ears, and of course the driver never sits in the middle of the car."

An even larger breakthrough came in the 80's, when Becker committed what some claimed at the time was automotive heresy. Becker purchased a new Mercedes 450SL, ripped out its factory-installed sound system, and replaced it with his own design incorporating home stereo components and speakers. Then he drove it down Wilshire Boulevard to every Mercedes Benz, Rolls-Royce, Porsche, and Ferrari agency in Beverly Hills. "Some of the people at the Mercedes-Benz [dealerships] said, 'How dare you put anything but factory equipment in that car' That was maybe 25 percent of them. The rest of them were amazed when they heard the difference. "Then I outfitted some of the sales manager's cars with similar equipment. It was a big investment, but the celebrities weren't coming to Hawthorne, so we had to come to them. It gave the salesman something extra to sell. The Ferrari or Porsche of Rolls-Royce salesmen would ask a customer, 'Say, would you be interested in upgrading your sound system?' Considering that we were in the music capital of the world, there were lots of reasons for them to say yes." The first celebrity to nod an affirmative was Rod Stewart. "He had a Porsche Turbo, and we installed about eight or 10 speakers in his car."

In 1984, Becker moved the company, by then known as Becker Automotive Design (B.A.D.), to its present site, a half-block south of Beverly Hills, and began routinely installing upgraded sound systems for every Porsche, Mercedes, BMW, Rolls-Royce, and Ferrari dealership from San Fernando Valley to Long Beach.

The real "boom" for Becker Automotive was in the 90's when Sport Utility Vehicles (SUVs) where becoming extremely popular especially amongst celebrities, providing the privacy from the constant bombardment of the paparazzis. In the 90's the music industry was also seeing a sign of a trend in a particular music genre "Rap". "Snoop Doggy Dogg and Warren G. owned two of the first SUVs we totally customized," says Becker, "and rappers have a tremendous influence in the L.A. culture, not just on fashion and music, but also in the cars that entertainment and sports stars drive. Now, in the music and sports world, people simply have to have an SUV." The appeal of the SUV, explains Becker, begins with its versatility and size. "But they can be improved upon from several points: power, brakes, suspension, exterior and interior aesthetics, and electronics. Once you do that, you have an SUV that feels like a European high-performance luxury car, only the SUV has more value and utility that the luxury car. You can pull up next to an exotic or luxury vehicle, and all the excitement is in the truck. They're tough, they build value, and they give their drivers great pride of ownership."

Becker Automotive is a company which has truly come into its own, producing custom vans for those seeking the ultimate in luxury transport with an eye towards discretion. Today Howard Becker transforms SUVs and vans into ultraluxe transports for the likes of Edgar Bronfman Jr., Tiger Woods and King Abdullah of Jordan. His clients want the accoutrements of a Rolls-Royce or a Maybach, but would rather do without the attention those cars tend to attract-at least some of the time, creating that "Privé" environment they seek combined with class and elegance.

A Becker SUV or van with every luxury and armoring option can top hundreds of thousands of dollars. Becker Automotive Design Their latest product named the JetVan is a cocoon of technology with 5 star luxury. Providing a private, calming ambience and a host of amenities that, according to Becker, have customers repeatedly saying, "This isn't a van, it's a Mercedes," which technically speaking it is.

In collaboration with Crestron Electronics the latest innovation is truly a mobile office. Crestron is the world's leading manufacturer of sophisticated audio/video and lighting control systems; Becker Automotive produces highly customized, chauffeur-driven business luxury transportation. Put the two together and the result is zero downtime, even during a traffic-laden commute.

Becker transforms Mercedes-Benz manufactured new generation Sprinter Vans and Cadillac Escalade ESVs into virtual blank slates. Options range from choices in chassis sizes to the number of hand-crafted seats, a variety of upholstery and carpeting options and a selection of hand-veneered, genuine wood accents. Complementing these luxury features is a technologically advanced environment kept simple by Crestron, providing touch panel control of virtually every in-cabin system and device.

"When you sit in a Becker JetVan or Escalade, the 'wow' factor is undeniable," said Vin Bruno, Crestron Director of Marketing. "You immediately grasp how tremendous an asset it is for a busy executive on the road."

Without ever having to unclasp the seatbelt, owners can access high speed Internet, 3G wireless technology, satellite TV and radio, iPods and Blu-ray players, plus the air conditioning and heating, privacy dividers, aircraft-like LED lighting, electric aviation blinds, seat and foot rest controls and automated side entry door. 32' to 40' LED screens, 7.1 surround sound audio and lighting dimmers make the AV experience equal to that of a home theater.

Becker Automotive is the epitome of mobile luxury and over the years has proven it can withstand the test of time.



"Our customers seem to [be able to] afford everything except time, The JetVan puts time back into their lives." Howard Becker. Becker Automotive Design (B.A.D.)