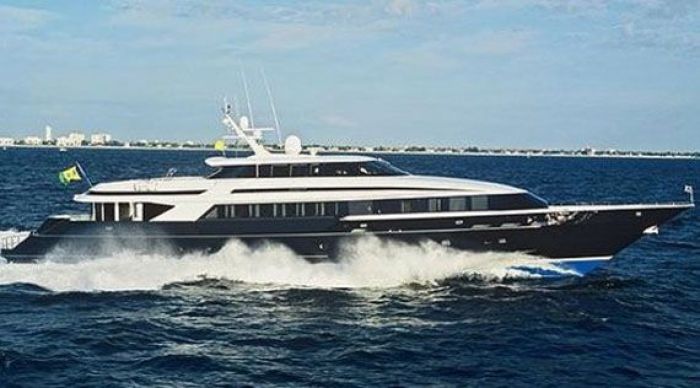 Photo Courtesy of Superyachts.com
This is a fresh catch reeled in this week off the transom that is both worth seeing and seaworthy!
Kudos to Superyachts.com for reporting on this custom-built masterpiece motor yacht designed by Heesen Yachts. The Octopussy is for sale at $5.9 million. This stupendously built vessel will be shown off at the 2011 Palm Beach Boat Show this month. The superyacht is exclusively being represented by IYC.

The Octopussy is one boat that really has its ship together. A maximum cruising speed at 42 knots and an average cruising speed of 25 knots support the assertion while hardly raising a ripple or a splash of an argument among yachtsmen or industry pundits.

The motor-powered, deluxe super ship sleeps 10 guests in addition to accommodating a full crew of six. Octopussy was built in 1988 and refitted in 2002. Mulder Design is the ship's architect. It features five cabins including a master's suite that would be suitable to host the suave and debonair Mr. Bond and the alluring and mysterious Ms. Smythe, also known as Octopussy.

What's in a Name?
Octopussy is a character portrayed by Swedish actress Maud Adams in the eponymously titled James Bond-branded film. She is a jewel smuggler, a circus owner and a debutante. It is her father's work with octopi that led to Octavio Charlotte Smythe's receiving the colorful nickname. Actor Roger Moore, who portrayed James Bond the most at seven times, starred opposite of Ms. Adams in the 1983 film.

Catch a glimpse of Octopussy at the Palm Beach Boat Show running March 24-27, 2011. Visit Superyacht.com to view a brochure of Octopussy.