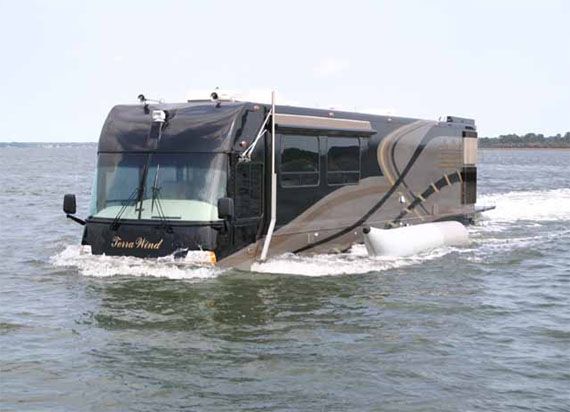 Photo Courtesy of Terra Wind
Whether you are a
luxury-loving yachtsman
, a landlubber, or both, the Terra Wind RV is a vehicle that will float your boat either way. This deluxe hybrid can be driven to the marina and then transformed into a sensational rectangular-shaped yacht. 
The Terra Wind RV is branded as the "world's first luxury amphibious motor coach and yacht," by its manufacturer, Cool Amphibious Manufacturers International. The company, also known as C.A.M.I., gets no debate on that point from this corner. Mr. John Giljam, a co-founder of the firm along with his wife, Julie, is the inventor of these amphibious vehicles. The South Carolina-based C.A.M.I. has been in business since 1999. 
Poshly appointed to the max, this RV/watercraft features plush carpeting, marble floors, teakwood cabinetry, and an all-leather interior. There are eight jet-whirlpool tubs, a 600-watt Surround Sound stereo, a 42-inch plasma TV, a dining room for two, and a rear-positioned swimming deck.  
The amphibious motor coach is as functional as it is luxurious with a side-by-side refrigerator, a four-burner electric stovetop, and both a microwave and a convection oven. Additionally, there is an onboard computer, a GPS navigational system, a remote control-operated floodlight and an HVAC system.
Looking at a image of the Terra Wind RV out in the waters, it really would be not that surprising to see a boat from the Coast Guard drop by to ensure that all is well. After all, seeing an RV floating along like this is not an everyday site to say the least. For more information, visit
TerraWind.com
.