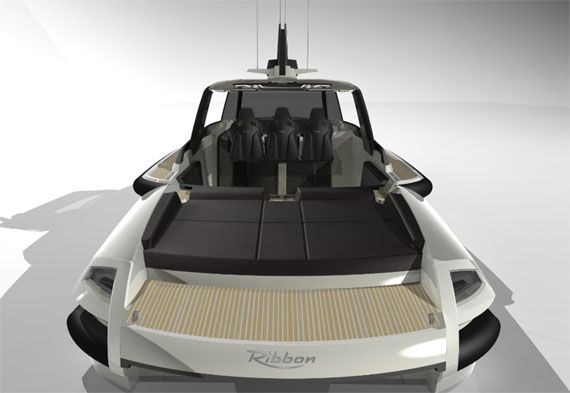 Photo Courtesy of Ribbon Yachts
The Ribbon 45 SC is the latest deluxe, high-performing vessel from Netherlands-based Ribbon Yachts. This 45-foot yacht has equal measures of style, performance, and functionality built into this hull. The Ribbon 45 SC is a recreational, offshore boat with design elements seen on the most agile of aircraft.
With an overall beam just shy of 13 feet, there is plenty of space onboard for passengers to maneuver around the cabin area. The CE-Category B boat is powered by two Cummins QSC 600-horsepower engines with twin Rolls-Royce Kamewa water jets.
There is a windscreen that surrounds the entire cockpit area that enables guests to relax, as the
watercraft
accelerates across the water at a maximum speed of 43 knots, which is an adrenaline-pumping 49-mph-plus pace. The cabin of the Ribbons 45 SC is spacious, as there is sufficient legroom, overhead lockers, and a private bathroom with a shower. A waterline-level aft collar on the 45 SC creates a unique recreational area for passengers to lounge on or to launch out into the waters. 
The full-service marine specialty company
Vripack
is the designer of the Ribbon 45 SC. The award-winning company's diverse portfolio, which dates back to its inception in 1961, contains numerous citations in various categories that quantify the seaworthiness of the firm's body of work.
Ribbons Yachts, a maritime designing and manufacturing firm, is doing swimmingly well for a firm that was founded by Stephen van den Berg as recently as 2010. For more information, visit
RibbonYachts.nl
.