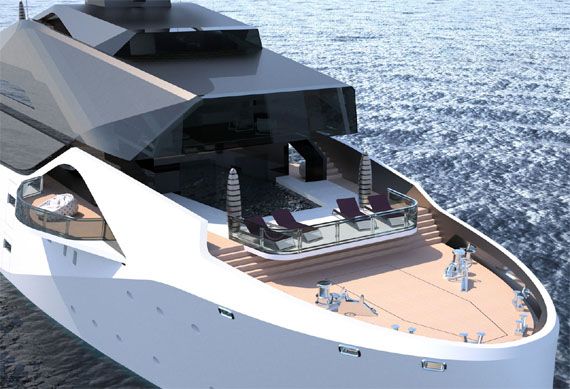 Photo Courtesy of Arman Marine
The splash on the Dune 90 is that it is creating more than a ripple in the water with its style and functionality taking precedence over size. The
shipbuilder
stressed a workable design over a "bigger just to be grander" perspective. However, do keep in mind that the "90" refers to meters and not feet. So, from bow to stern the Dune 90 is more than 295 feet long. This superyacht, along with 11 cabins for guests, has quarters for a 28-member crew. 
This is a "true explorer yacht," according to its designers. The Dune 90's racks of recreational amenities and devices include such niceties as a helicopter hangar and berths tabbed for a mini submarine, an amphibious aircraft, three tenders, and six waverunners. Additionally, there is a garage that houses four off-road vehicles.
The ship's swimming pool is on the foredeck, which has direct access to the owner's master cabin, providing what would appear to be an extraordinary sense of expansiveness. The upper decks are covered by a large glass atrium with arabesque-type light filters that let natural light in while keeping out unwanted heat.  
The Arman Fissette-designed Dune 90 also signifies the launching of Arman Marine, Mr. Fissette's own maritime company. Fissette is a formidable marine designer and a former designer at BMW. The company also announced that the team responsible for the Dune 90 also is designing a 75-meter superyacht. A shipyard for both projects has not yet been named to date. Visit
ArmanMarine.co
to see more.