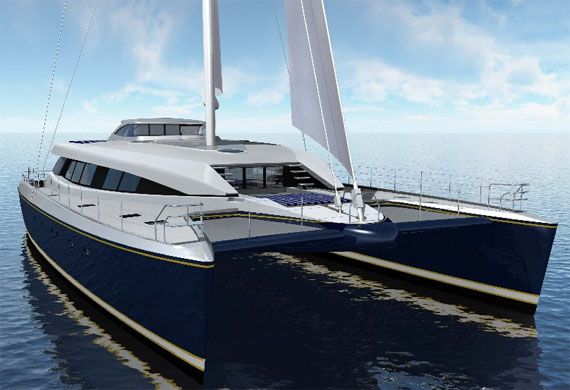 Photo Courtesy of Yachting Developments
The Q5 is a large volume,
cruising catamaran
being built by Yachting Developments that will launch in early 2012. The 100-foot sailing yacht, with a 48-foot beam, is made with an E glass/carbon mixture that utilizes foam-sandwich technology for its strength and lightness.
The composite materials make it 25 to 30 percent lighter than similar-sized ships made with aluminum. Alan Warwick Yacht Design did the naval architecture and the exterior design for the Q5. There are five cabins for guests, which sleep a minimum of 10 passengers, and three additional cabins for the crew. Redman Whitely Design is the interior designer of the eight-cabin luxury vessel. 
CharterWorld.com reported that the construction of the Q5 began in 2008 but was suspended by the owner and resumed in 2010. The ship will be ready for world cruises upon completion, as it will conform to the large commercial yacht code (LY2) as designated by the Maritime and Coastguard Agency (MCA). The main engines, twin C7 Caterpillar, deliver 460 horsepower at 2,800 rpm.
While the Q5, which is also known by its build number, YD66, is Yachting Development's latest project, the New Zealand-based shipbuilder has received several awards for best sailing yachts. YD has received several awards from the
Superyacht Society Design Award
. The firm's sailing yacht, the Bristolian, was the 2009 winner of the Best Sailing Yacht in the 24-to-44 Meters category. Another YD yacht, the Bliss, was a finalist for the very same award in 2010. The Bristolian also was voted one of the "most beautiful yachts ever" in a survey conducted by
SuperYacht World
magazine in 2009. For more information on the company's fleet, visit
YachtingDevelopments.co.nz
.