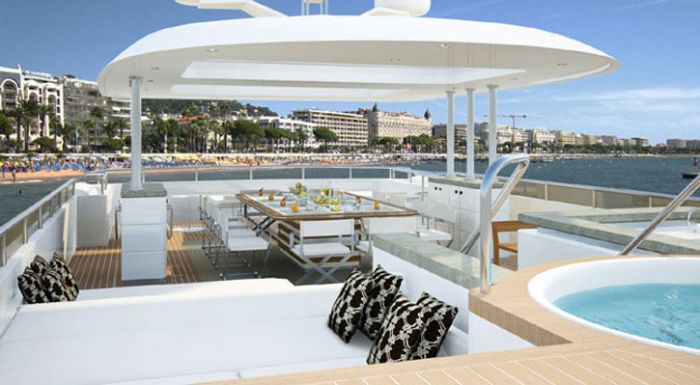 Photo Courtesy of Curvelle
The Curvelle Quaranta is a catamaran with a maximum cruising speed of 25 knots. The two-hull
superyacht
offers flexible guest accommodations that can be made into six double cabins, three suites, or other combinations to match guests' needs. The firm spent more than four years in developing this vessel.
A carbon-hybrid-epoxy catamaran is more cost-effective on fuel consumption and leaves a measurably lighter carbon footprint from usage than a same-size mono-hull yacht, according to the yacht builder.
The Quaranta, which is approximately 111 feet in length, is the largest carbon-hybrid composite power catamaran worldwide. It has similar storage capacity of a mono-hull ship that is nearly 30 feet longer. Curvelle also says that the additional beam and ship's four-deck structure provides as much as 50 percent more space for storage compared to a single-hull ship of the same length and width. A mono-hull yacht of the same dimensions would have three decks versus the Curvelle's four.
Curvelle's transatlantic-ready superyacht is both MCA- and RINA-certified. The yacht is in full production in Turkey. "With her transatlantic range and a cruising speed of 22 knots, the Curvelle Quaranta will be on the market at a highly competitive introductory price, staying will below 10 million Euros," said Luuk V. van Zanten, developer and marketing director of Curvelle, in a previous statement to the media.
"This means [that] Quaranta approximately halves the average price of a mono-hull vessel of similar volume and performance." For more information on the catamaran, visit
Curvelle.com
.