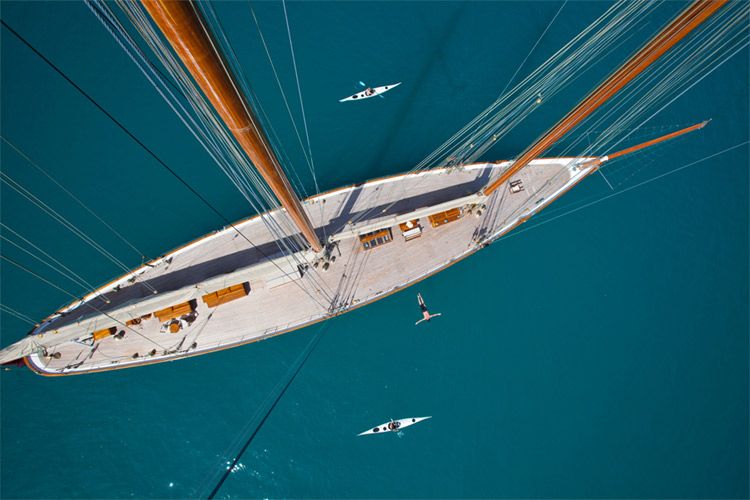 Photo Courtesy of Schooner Elena
One of the
world's best luxury yachts
,
Elena
was originally designed by Nathanael Herreshoff in 1910. However, unlike many yachts which were designed for cruising,
Elena
was originally built for racing. Herreshoff crafted her keel using a lower center of gravity—an innovation for the time. Her build won the vessel many awards including the 1928 Trans-Atlantic Race. While
Elena
still races, she also plays host to those seeking the beautiful vacation destinations.
Elena features a main salon furnished with rich, red leather couches and beautifully polished mahogany bookshelves, tables, and paneling. An expansive skylight allows natural light to fill the cabin, while modern amenities such as a large television and surround system are concealed to keep Elena's aesthetics in keeping with her historical roots.
Those interested in chartering
Elena
will be delighted in the gorgeous stateroom outfitted with mahogany paneling, an office-sized desk, and a large bathroom. An additional four guest staterooms provide en suite bathrooms, iPod and iPad technology, as well as period accents. Dining on
Elena
is an elegant affair, whether on the ship's deck or in the dining room. Meals are created by one of the yacht's top chefs who will prepare customizable menus to suit any taste.
Elena
is also available for racing charter. Though she dates back to the 1900's she has been redesigned to include today's most current navigation and communication systems. She continues to win regattas throughout the Atlantic due to the combination of her timeless design and the addition of modern technology. For more information visit
SchoonerElena.com
.