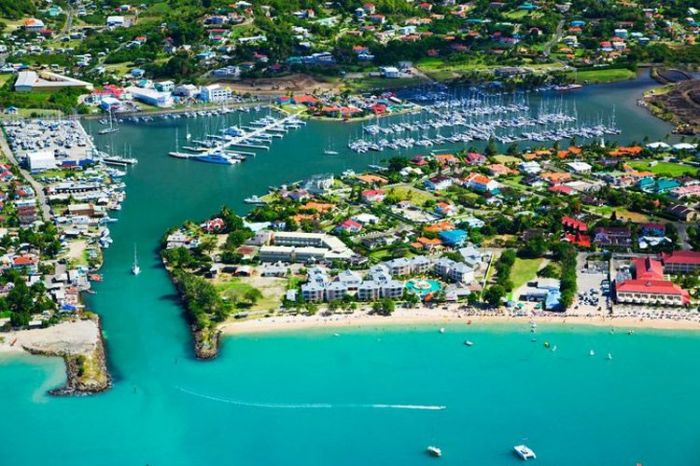 Photo Courtesy of Rodney Bay Marina
Yachtsmen are out in full force cruising the waters of the Caribbean, with its seaworthy marinas and
luxury yacht
clubs on the tropical waters. Having an eye out for the best marinas is as important to a successful trip as having a dependable crew and a well-maintained ship. Here are a few full-service marinas and yacht clubs throughout the Caribbean Islands that have served yachts and crews for years.
Rodney Bay Marina
Located on the north side of St. Lucia, Rodney Bay is a full-service megayacht marina with a boatyard, a fuel dock and 232 slips for 50 to 80-plus foot vessels. Rodney Bay has appealing activities for both sailors and landlubbers. There is horseback riding, bird watching, hiking trails, as well as fine dining, upscale shopping, and a vibrant nightlife. Island Global Yachting manages the marina.
St. Lucia is the host of several highly regarded annual festivals, such as the St. Lucia Jazz Festival and the Atlantic Rally for Cruisers. The jazz jam is among the top jazz festivals worldwide. The Atlantic Rally for Cruisers is a sailing event that begins in Spain's Canary Islands and ends at Rodney Bay Marina. More than 200 yachtsmen participate yearly in the 2,700-mile sail.
Bluff House Beach Hotel & Yacht Club
The Bluff House Beach Hotel & Yacht Club is in the Bahamas' Green Turtle Cay. The marina was totally refurbished in 2004. It is approximately 170 miles due east of Palm Beach. Sailors, divers, fishermen, and yachtsmen are attracted to the white sand beaches, coral gardens, and sand bars. Nearby deserted islands such as Fiddle Cay, Pelican Cay, and No Name Cay beg to be explored.
The Bluff House has a full-service 40-slip marina that is decked with more than 12,000 square feet of Brazilian teak providing ample dock space for each yacht. The Bluff House offers fuel, electricity, water hookups, and laundry and restroom facilities at competitive rates. (Photo courtesy of Bluff House Beach Hotel & Yacht Club)
Nassau Yacht Haven
The Nassau Yacht Haven is located in the center of the Nassau Harbor. The slips can handle yachts up to 170 feet long. The marina is home to the acclaimed Poop Deck Restaurant and the Bahama Divers, which is a fully stocked PADI dive center. Its central location puts guests within walking distance to the community's shops and businesses. The Nassau Yacht Haven is the oldest and largest marina in the area. Many vacationers return year after year. (Photo courtesy of Poop Deck Restaurant)
Bitter End Yacht Club
The Bitter End of the British Virgin Islands is reachable only by sea. It is 12 miles from Tortola, 30 miles from St. Thomas, and 75 miles from Puerto Rico. The Bitter End Yacht Club has 70 slips and accommodates yachts more than 76 feet in length at its full-service facility. Located in the British Virgin Islands on the island of Virgin Gorda, it is well known for its high-end numerous water-sports adventures.
Additionally, it is among the most popular island vacation destinations for both families and singles. Members of the Bitter End's Quarterdeck Club do receive special privileges. Boating services are available to non-members. The Bitter End Yacht Club also is a complete resort facility with suites and villas. (Photo courtesy of Bitter End Yacht Club)
Bobby's Marina
Bobby's Marina is in St. Maarten near Phillipsburg. The boatyard provides full service including repairs and short- or long-term storage. The marina has been servicing yachtsmen for more than 30 years. The repair station offers space for do-it-yourselfers as well as having certified technicians available to handle repairs and maintenance. St. Maarten is near St. Barths, St. Eustatius, Saba and Anguilla. Bobby's is among the foremost boatyard in the northeastern Caribbean Islands. (Photos courtesy of Bobby's Marina)