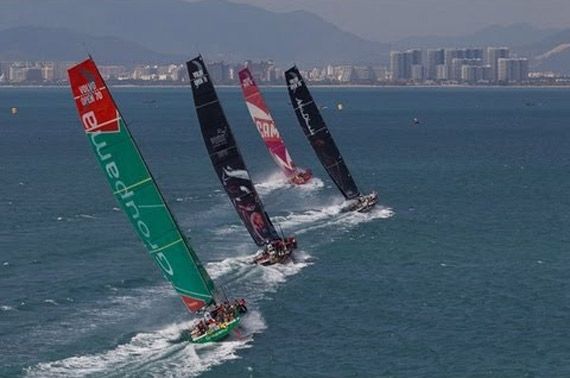 Photo Courtesy of Volvo Ocean Race
This month, the highly acclaimed Volvo Ocean Race, dubbed the "World's Toughest and Longest Ocean Race" by the sailing community, and one of the top
sporting events worldwide
, made a stop in Miami, Florida. It is the only North American stopover for the prestigious around-the-world yacht race, which is held only once every three years.
Competitors typically leave in October from Europe and end the competition around nine months later. Ten stopovers worldwide deliver a unique global reach in Asia, North and South America, Africa, the Middle East and Europe in what is widely described today in the world of competitive sailing as the 'Everest of Sailing.'
Official timekeeper and sponsor of the 24-hour record competition is the highly acclaimed watch brand IWC Schaffhausen, which is also the official sponsor of the Abu Dhabi Ocean Racing team, the first Arabian challenger in the 38-year history of the Volvo Ocean Race. The six teams in competition this year are Abu Dhabi Ocean Racing, Camper with Emirates Team New Zealand, PUMA Ocean Racing Powered by BERG, Groupama Sailing Team, Team Telefonica and Team Sanya.
The current race started in October 2011 in Alicante, Spain and is en route to the end point of Galaway, Ireland in early July 2012. The route this year takes the teams over 39,000 nautical miles to Cape Town, Abu Dhabi, Sanya, Auckland, around Cape Horn to Itajai, Miami, Lisbon, Lorient and finally Galaway. The downtown Miami Race Village was open from May 6-20 and hosted pavilions, shows, live music, food, appearances, sailing clinics, sculpture building workshops, parties and more.
The Abu Dhabi Tourism Board has a UAE-themed Race Village pavilion, strikingly classic red with several heritage celebrations to welcome fans. Abu Dhabi Tourism & Culture Authority leveraged the emirate's 'Travellers Welcome' slogan in a specially designed transformer-like pavilion featuring photo opportunities with live Arabic falcons, calligraphy art that turned ordinary names into Arabic works of art and henna specialists that painted intricate designs on visitors' hands.
Host Ports are also home to the Volvo Ocean Race Experience, an interactive attraction designed to emulate the world of a Volvo Ocean Race sailor through its 3D cinema, simulator and winch grinding challenge.
The Race Villages also provide the ideal place to watch the yachts race, with challenging In-Port Races that bring the excitement and adrenaline of the seas to the spectators. An estimated four million people will visit the race villages at Volvo Ocean Race Host Ports this year. The next stopover for the race is Lisbon, Portugal. The race village will be open from May 31–June 10. For more racing information, visit
VolvoOceanRace.com
.