Mila Pantovich View Profile

Lifestyle Editor | JustLuxe
Andreas L Charter Yacht is the "Ferrari of the Sea"
Jul. 3rd, 2012 | Comments 0 | Make a Comment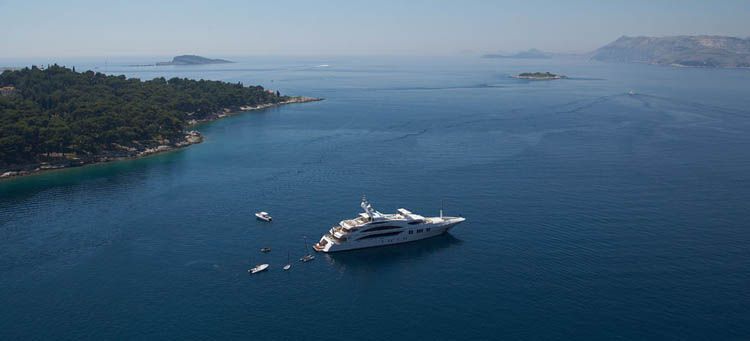 Photo Courtesy of Liveras Yacht
With the growing popularity of
yacht charters
, companies strive to keep up and supply customers with spacious accommodations and one-in-a-lifetime experiences. Liveras Yachts knows the charter market well and makes innovative custom yachts to fit its needs. The latest superyacht to join the companies ranks is that of Andreas L. With a guest allowance of 12, Andreas is a 196-foot-long contemporary yacht with a carefully selected international crew ready to help you with anything you may need. Built by Benettie, with the interior designed by Redman Whiteley Dixon, this vessel intends to make you feel like you're on the world's
best luxury yacht
.

Liveras Yachts boasts that Andreas L is considered by many to be the "Ferrari of the Sea" and with exotic meals, a sun deck gym, and a vast collection of water toys, we don't doubt it. The boat features many different suites, including a master suite, a VIP, two with double beds and two with singles. Each is furnished with fine materials and rich colors, bringing guests great views and top-of-the-line entertainment equipment.

Once anchor drops, the vessel stabilizes, making use of the gym, massage room, and illuminated Jacuzzi even better. Among the water sports equipment available, guests will find a jet ski, two stand-up paddle boards, three sets of water skis, two sets of dive gear, an inflatable slide and iceberg, wetsuits, a water trampoline, two Malibu kayaks, and a 32ft Intrepid tender.

With most spanning 10 days, Andreas L has a vast charter itinerary, including the Eastern and Western Mediterranean, Caribbean, and the Indian Ocean. The Amalfi Coast & Sicily (Western Mediterranean) charter takes you to Galli Islands on day three and Capri to check out the Blue Grotto cave on day 4. The Turkey (Eastern Mediterranean) charter includes a visit to Fethiye Bay on day three and an exploration of ancient ruins of Myra on day eight. All charters also feature a talented chef on board who is able to use whatever local ingredients of the country you visit to create unique dishes.
Rates vary depending on season but the Mediterranean charter based in Monaco averages from $397,215 to $441,350 per week.
For more information on charters visit LiverasYachts.com
You might like :
Best Luxury Yachts