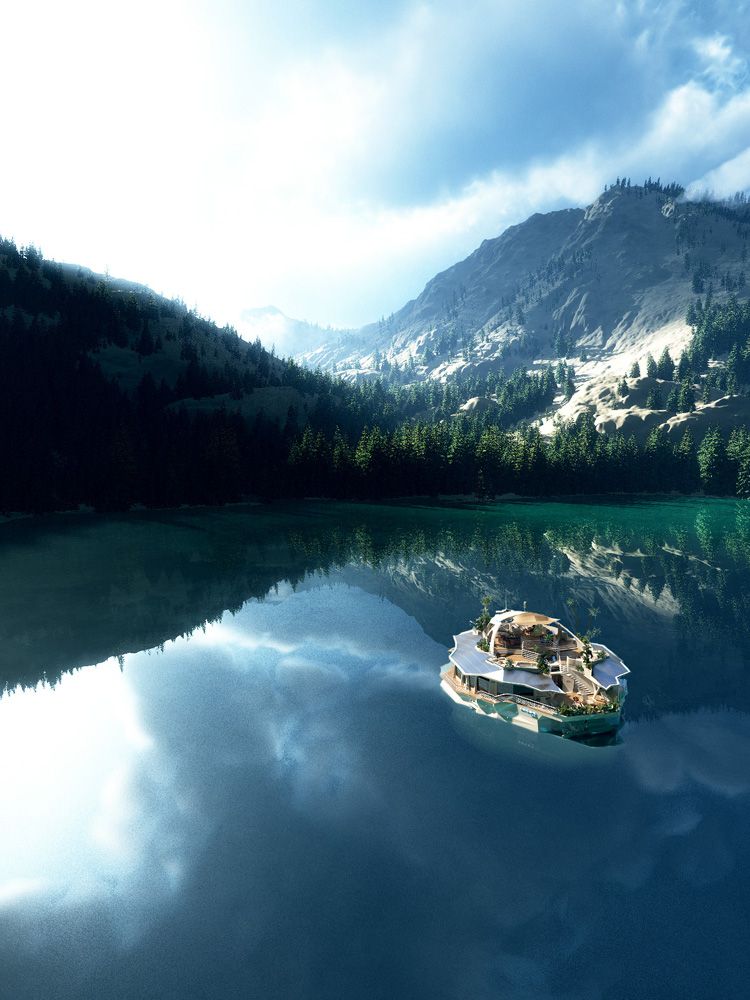 Photo Courtesy of Orsos Islands
Usually people have to choose between spending their vacation aboard a
luxury yacht
or an island resort, but Orsos Islands has plans to combine the two experiences with its all-encompassing design concept. Made to look like a floating island, Orsos Islands blends together the need for privacy with the inviting allure of land-based mother nature.
The Island has been designed to feature many levels and will be 65-feet wide and 121-feet long, giving guests plenty of room and maintaining a luxury atmosphere. The outdoor areas will offer guests many perks, such as two showers and many sunbathing opportunities. The sun deck features roof loungers and gives a panoramic view of the sea and any nearby land masses. With a BBQ buffet, bar, and Jacuzzi, the sun deck will easily entertain 15 people comfortably. On the middle level is the main deck with a large terrace that would be perfect for sunbathing and water sports.
With a guest allowance of 12, the planned indoor areas are expansive and offer guests plenty of room and comfort. The main indoor area, which will be able to open onto the outdoor deck, will have a large living room, lounge, kitchenette, bar, and restaurant area. The built-in skylight is set to bring natural light into the space and constantly supply fresh air. A neat feature we really like is the exotic aquarium in the central room, bringing a little bit of the ocean on board with you.
While drifting out on the open sea you'll probably want to enjoy some fun
water toys
and the Storage Facility should make it very easy. With room for various water sports equipment, diving equipment, and a mooring for motor boats, the storage area is a great feature of the future Island vessel.
The six large state rooms, all accessible through the living room, will have ensuite bathrooms and large windows. If requested, two adjoining rooms can be combined to create a larger, more flexible, living area. There are also rooms for the staff, as well as an office and guest toilet, on the level. The lowest deck is at an underwater level with a laundry room and large main kitchen. The biggest draw to this level is sure to be the large entertainment space fit for dancing. One will find an impressive home theater, as well karaoke for certain singing voices that should perhaps be kept out on open water, far away from civilization.
The Island prides itself on being environmentally friendly and will be built to have an autonomous power supply based energy system. It will be powered, at all times, by a silent wind energy system, as well as expansive solar panels. The heating and air conditioning plans are based on heat recovery from the sea water. The excess energy will be used to recycle the water; treating salt water to make drinking water and disposing of waste water. Water will never be dumped into the ocean without being recycled first, ensuring that The Island contributes to the environment in positive ways. An aspect we especially like is that nature is brought onto The Island by the scattering of diverse plants all over the vessel. The company ensures that enough room will be given to the roots that they will be able to live long lives, while being given quality water through the irrigation system.
The finished vessel will feature two diesel engines, which will make up for any increased energy needs, but are really only meant to handle short journeys. The company suggests enlisting the help of a towboat or cargo ship if you want to travel long distances.
CNN reports that The Island is available for individual purchase for roughly $6.5 million, with production time at a little under a year. Whoever purchases one of these will receive specialized training in the technology and maintenance of the vessel, as well as a trained Island caretaker. It can be delivered to anywhere in the world, and will be anchored professionally and ready for action. If you choose to outright buy it, you can also request customized fixtures, fittings, and materials to truly make it your own. If you don't wish to purchase it, you can always charter The Island from a pre-existing private owner.
For more information visit
OrsosIsland.com