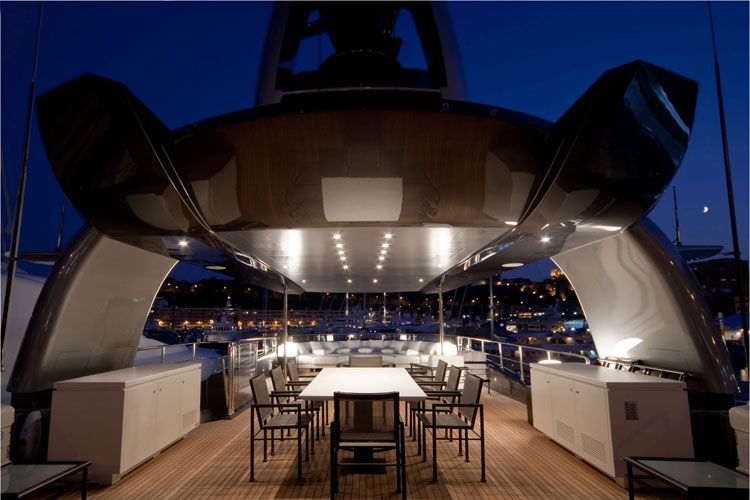 Photo Courtesy of Mondo Marine
Too bad the holidays just passed, because Mondo Marine's Streamline is up for sale, and surely anyone would be delighted to have this
luxury super yacht
parked in their marina with a red bow on top. Built in 2009, the Streamline is a custom constructed yacht conceptualized by Cor D. Rover, and features an abundance of room for up to 10 guests. Currently, it is docked in Monaco, and is listed for $21 million by International Yacht Collection.
The Streamline is a displacement yacht with a steel hull and an aluminum superstructure. The exterior is sleek, of course, and has a polished silver appearance. At 161 feet long, its 85,000 liter fuel tank can provide a range of more than 4,000 miles. That's enough to get you across the Atlantic Ocean — just make sure to have friends pitch in for gas. Two MTU 12v4000M71 engines power the 470 ton yacht to cruise at a top speed of 16.1 mph.
There are no limits for relaxation as the sundeck and aft exterior deck offer plentiful seating for those on board, and guests have access to a lap pool and sunbathing areas. With the look of a modern restaurant, the open and airy main saloon is decorated in a minimal, chic style with a wood paneled floor and white accents.
The naturally lit sky lounge looks like a sleek hotel lobby with pristine white sofas, coffee-table, and wood and mirrored trim. Both areas have a curved glass sliding wall and the recessed lighting in the aluminum-clad ceiling outside gives the deck a shimmer at night.
The interior was designed by French architect Frédéric Méchiche and combines white walls, dark wood, and natural light. The Streamline's theme is evoked by striped area rugs and mirrored trim on the walls. If you are tired from swimming, there is an elevator to assist you to the various floors. The master statesroom is spacious with a seating area outfitted with a modern rug, sofas, flat screen TV, and recessed wall lighting. The inside of the ship can be converted for up to five staterooms.
For excursions to shore, a Zodiac tender can be found in the yacht's garage. With its calming interior and ample space for guests, the Streamline is well intended for the affluent owner who likes to entertain for long distances.
Mondo Marine is an Italian superyacht builder founded in 1978, specializing in unique, custom yachts of over 40 meters.