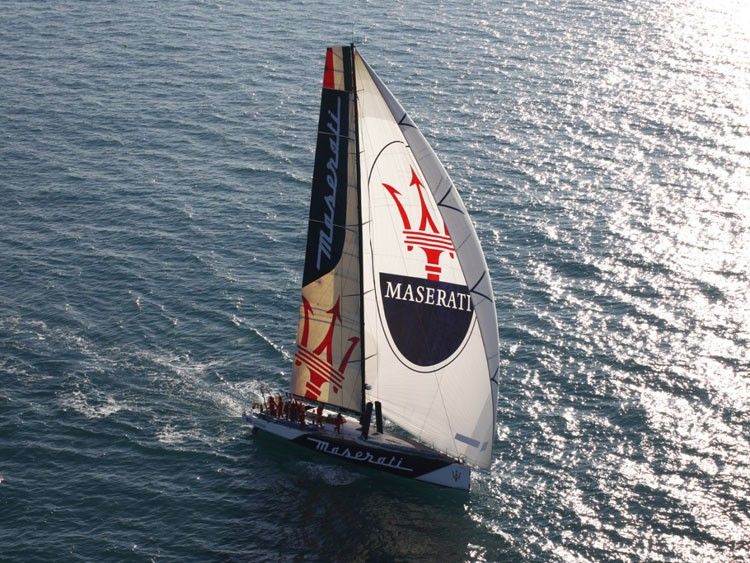 Photos Courtesy of Maserati
Try to imagine the vehicle you'd choose for a cross-continental tour and you could do a lot worse than a Maserati. The GranTurismo and Quattroporte do, after all, offer an ideal blend of speed and luxury. But though it just set a new record for traveling from New York to San Francisco, this
Maserati
isn't a car at all. It's a sailboat.
Maserati
The 70-foot racing sloop sponsored by and named for the Italian auto marque is embarking upon a round-the-world voyage. One of its journey's first legs took it right here to the United States, departing from Manhattan on December 31, 2012, and ending just the other day under the San Francisco Bay's famous Golden Gate Bridge – sailing the long way around South America's Cape Horn in the process.
The 13225-nautical-mile cruise, if you can call it that, took Maserati 47 days, 42 minutes and 29 seconds, besting the previous record along what's known as the Golden Route by an astounding ten days. 
Maserati
The route is so named for the Gold Rushers who sailed the same waters in the days prior to the Panama Canal, but is still traveled for sport and glory. Thursday's Child set the record in 1989 at 80 days and 20 hours. Ecureuil Poitou beat that time in 1994 at 62 days and 5 hours, followed by Aquitaine Innovations in 1998 at 57 days, 3 hours, 2 minutes – a record which stood until Maserati took the prize.
"We are exceedingly happy!" said Giovanni Soldini, captain of the Maserati and its eight-man crew. "The Golden Route is an historic record, a very important and challenging one. Now it will bear the colors of the Italian flag. Maserati proved to be extremely powerful, strong and reliable. The crew has been extraordinary over these 47 days, everyone was prepared to face even the hardest situation."
Maserati
Maserati
Maserati